A Guide to Different Styles of Tops
Tops can have different patterns, colors, materials, and shapes. Because it's such a versatile garment it's easy to find one that fits your personal style and body type. 5-Minute Crafts created a guide of different tops that you might want to try someday to help you find the one that you like the most.

⚠️ Please note that some tops might be missing from our guide!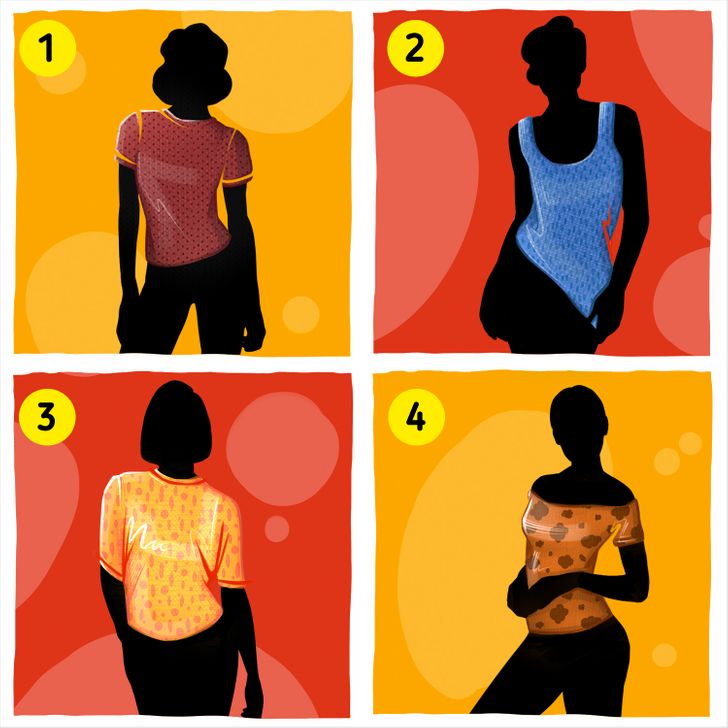 1. Basic t-shirt: It comes in many variations and many styles including the yoke neck, wide neck, and boyfriend t-shirt.
2. Asymmetrical: This top has an asymmetrical hemline instead of a straight one, hence the name.
3. Batwing: Easy to identify because of its long sleeves with deep armholes that taper toward the wrist.
4. Bardot: An off-the-shoulder top that's defined by its lower neckline and named after Brigitte Bardot.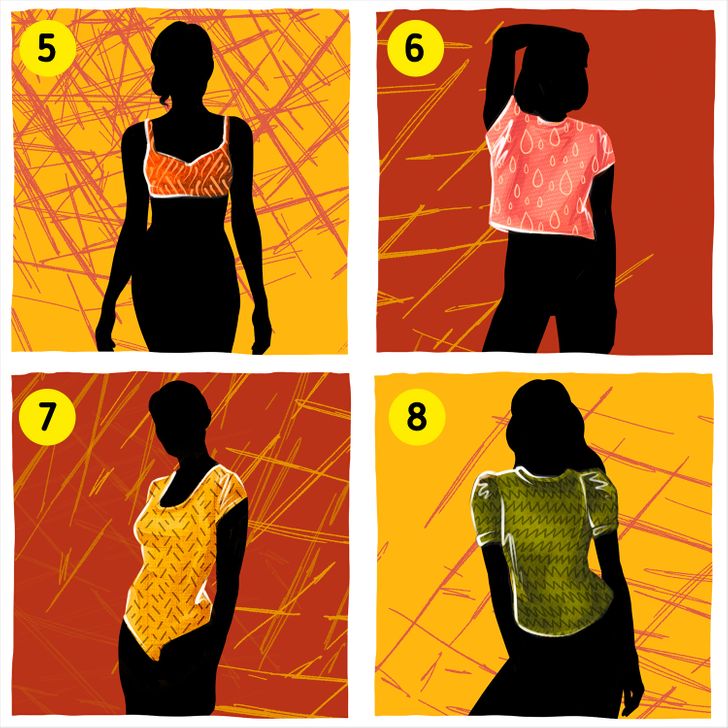 5. Bralette: It's a cropped top that basically looks like a bra. It also has thin straps, however, it doesn't have the hook and eye closure that a common bra would normally have.
6. Boxy: Pretty much the opposite of a fitted top — which is why it has a boxy silhouette.
7. Body suit: This is a one-piece top that's meant to be form-fitting and cover the torso and the crotch. That's also why it's made of stretchy fabric.
8. Blouson: Easy to identify because of its loose shape and cinched hem or waistline. To add fullness to the garment, manufacturers often use elastic or drawstring.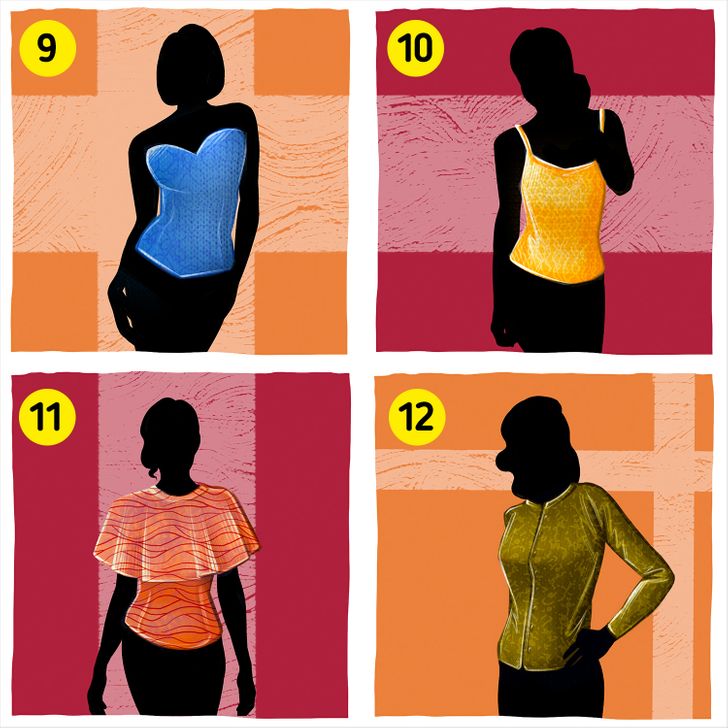 9. Bustier: This tight top will hug your figure with brassiere cups which will give support your breasts while shaping at the same time. It's similar to a corset but bustiers often have straps.
10. Camisole: A sleeveless top with spaghetti straps that's also close fitting. It's often worn as an undergarment but it can also be used as a regular top depending on how comfortable you feel with that.
11. Cape: A top that has a short cape attached, often at the neckline.
12. Cardigan/Sweater: A cardigan top is basically a cardigan that is meant to be worn as a top. Keep in mind that a cardigan is a knitted sweater that buttons down in the front.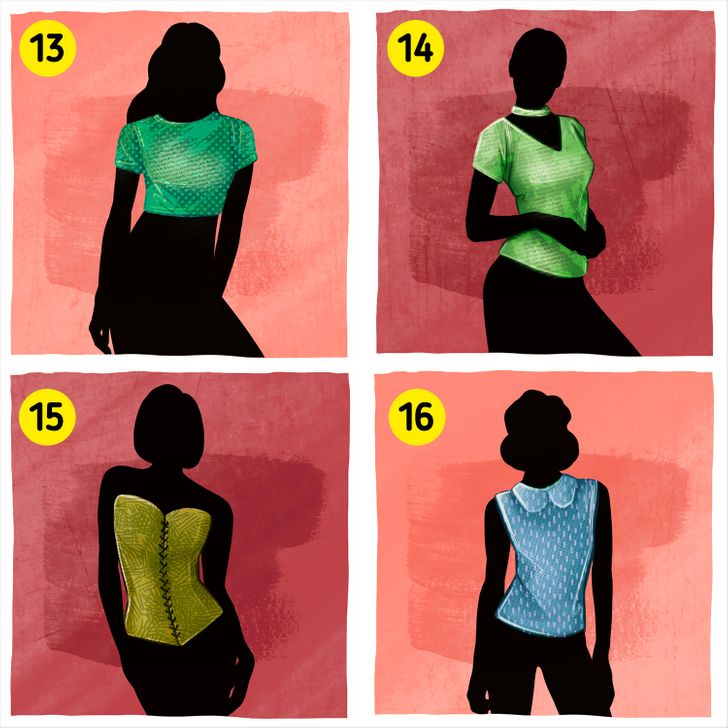 13. Crop: Short top that almost covers the stomach.
14. Choker: Top that has a v-neck and a band. Because of this combination it looks like you're wearing a choker, hence the name.
15. Corset: As the name suggests, this is a top that imitates a corset, so it's a strapless, sleeveless, tight-fitting garment. Unlike a bralette, a corset actually has a hook and eye closure. It can also have a lace-up closure.
16. Collar: This is a very broad category that includes pretty much all tops with different types of collars. Some of the most common ones are a Peter Pan collar or a polo collar.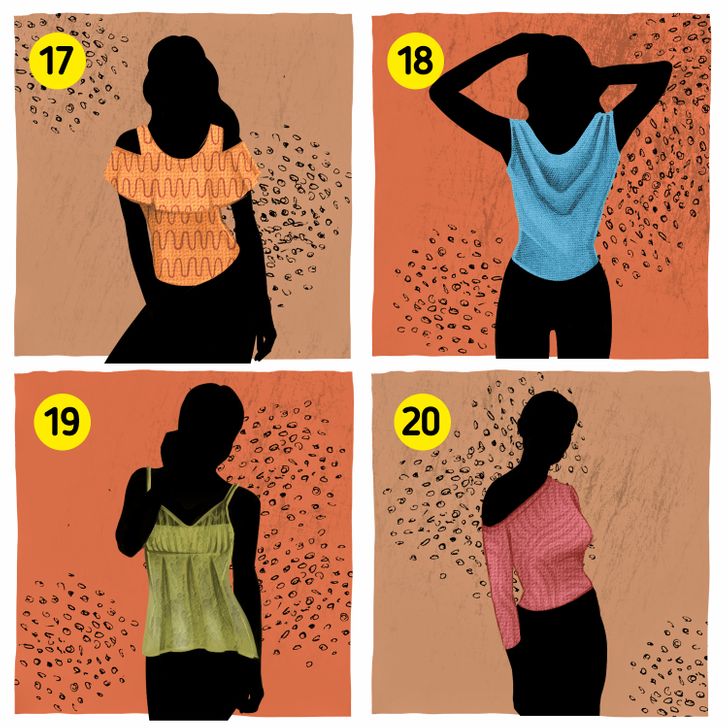 17. Cold-shouldered: What makes this top unique is that it has a cut out on the shoulders where you can see bare skin between the strap of the bodice and the sleeve.
18. Draped blouse: Top with folds inspired by cowls. These run along the bodice, most often just at the neckline, but it can also be along the hem.
19. Empire line: This is a special type of fitted bodice that's defined by the gathered or flared skirt that's attached to it. Oftentimes this second part draws out from under the bust so it gives the whole piece a high-waisted look even though it's not.
20. Flashdance: A pop-culture reference to the movie that made this top popular. Its off-the-shoulder neckline falls to one side and it also has an unfinished edge. It's typically grey and knitted with long sleeves and, generally, with a loose shape.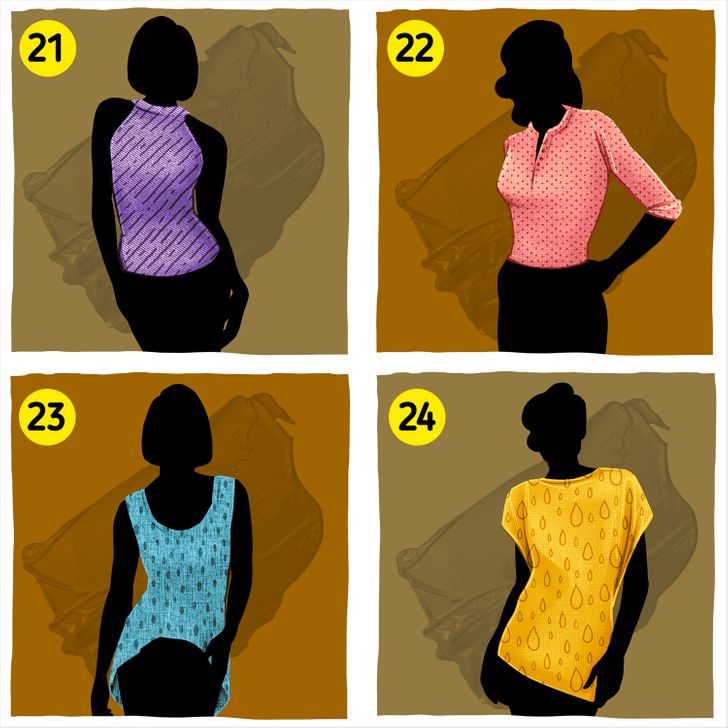 21. Halter: A sleeveless top that comes with the popular halter neckline after which it's named. It also has a narrow band or ties that are meant to keep the whole bodice together.
22. Henley: This is a pullover style top that's collarless. It also often has a button placket.
23. High low: A top that, on the back, has a very low bodice cut compared to that of the front. This gives the impression that it's asymmetrical.
24. Kaftan: Closer to a tunic in that it's loose. This top, however, has sleeves, but they're cut from the bodice as one single piece. It also has undulating sides.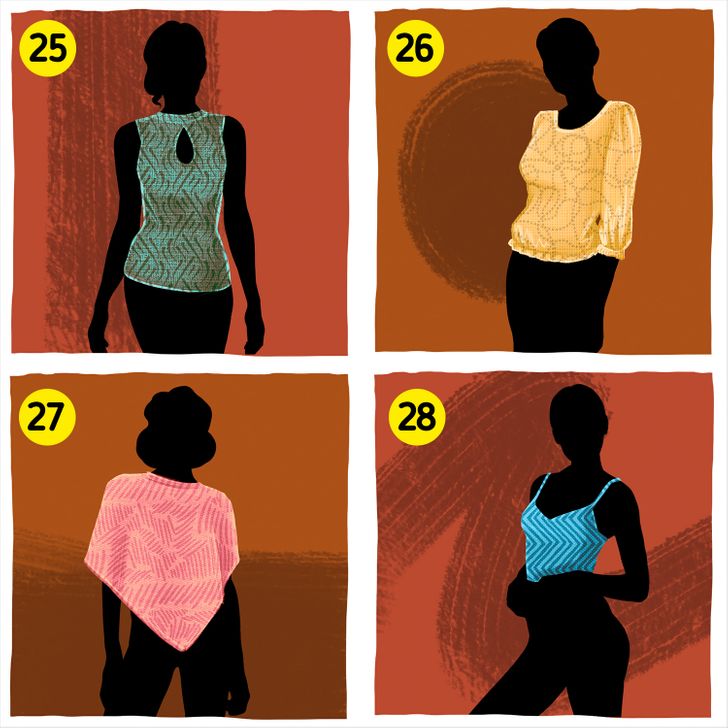 25. Keyhole: This top has a cutout on its U-shaped neckline which is reminiscent of a keyhole. It can be shaped as an actual keyhole too.
26. Peasant: Casual loose but not too long top with a wide neck. Its sleeves are either short and puffed or long and full. It'll typically have elastic or smocking at the waist as well as in the cuffs and neckline.
27. Poncho: Cloak-like top with just a slit at the top so that you can insert your head. It has no sleeves or defined bodice.
28. Spaghetti: A popular sleeveless top that has spaghetti straps to join the front and back bodices.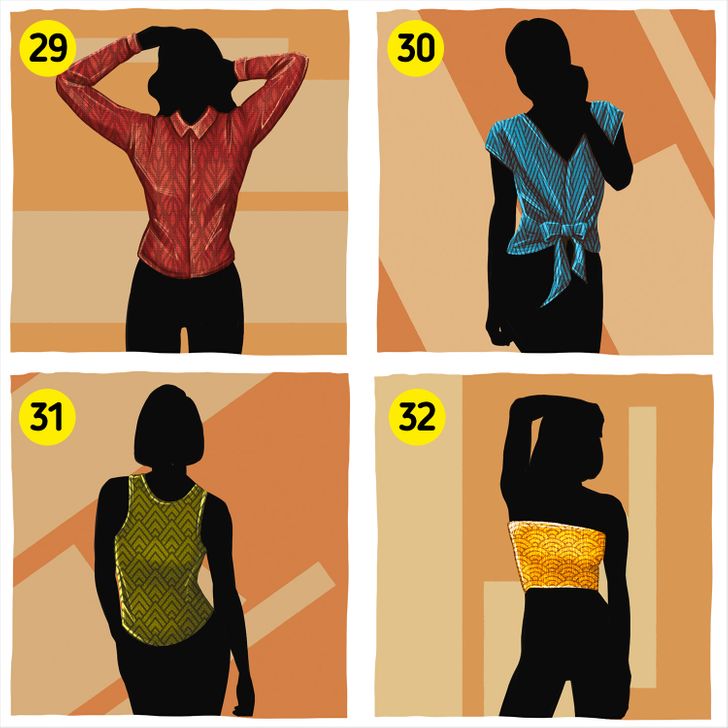 29. Shirt: Blouse that has all the features of a man's tailored shirt (high stand collar, yoke, left chest patch pocket, and button band front opening).
30. Tie front: Top with sashes or ties at the hem. It comes in different forms, either cropped, waist, or hip length.
31. Tank: Sleeveless top that has a scoop neckline and reaches your waist. Sometimes they have a racerback.
32. Tube: A strapless top that's tight-fitting which is why it's usually made of a stretchy fabric.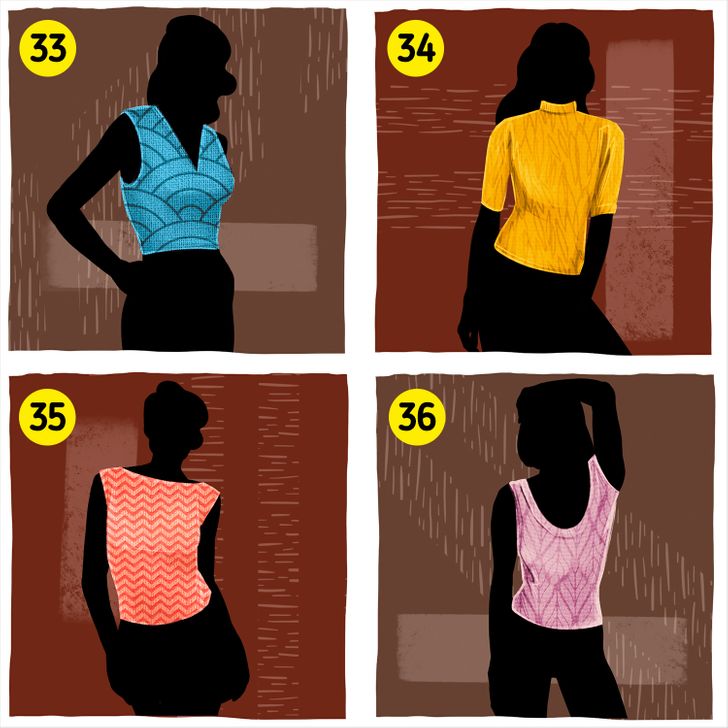 33. V-neck: As its name suggests, V-neck tops have a collar shaped like a "V".
34. Turtleneck: Tops with these collars go high up on the neck. They can be turned down or also scrunched under at the bottom near the chest area.
35. Boat neck: A top with a wide neckline that runs horizontally, front and back, almost to the shoulders and across the collarbone.
36. Scoop: Top in which the scoop-shape neckline drops significantly more than in most tops. It's often made with polyester or blends of this material.
Which top do you think we should include in the next guide?