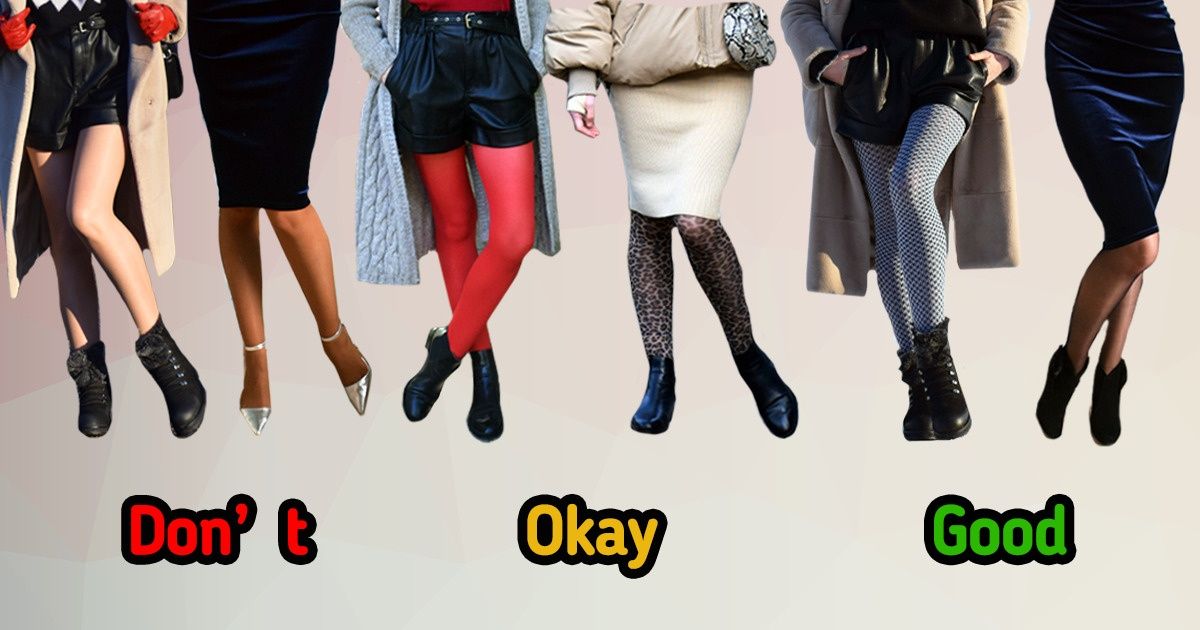 How to Combine Tights and Clothes Well
A lot of us remember the days when we used to go to kindergarten and our moms asked us to wear tights. Those tights often irritated the skin, slipped down the legs, and weren't cool at all. A lot has changed since then and today, tights are a popular, good-looking accessory. They don't only protect us from the cold but also help us highlight our individual style without requiring us to buy new clothes. But even the most stylish look can be ruined if you choose the wrong tights.
5-Minute Crafts decided to find out more about tights and how to choose them correctly.
Body-colored tights
✅ Choose matte, body-colored tights with a shade that matches your exact skin tone. The right shade of tights can create the illusion that you're not wearing any tights at all. They're good for the office and business meetings as well as parties during the colder time of year.

❌ Choose tights of a different color when bare legs will look inappropriate. For example, don't wear nude tights with winter boots, woolen dresses, fur coats, or down jackets. Dresses and skirts made of thick and heavy fabrics also look good with thicker tights.
❌ Don't wear tights that are shiny or look like tanned skin.
Thick, black tights
✅ If you're not sure about which color tights to pick, choose black ones. This is the best option if you don't know which color to go with. Black tights, transparent or not, can create a great classic look.
✅ Wear thick black tights during the colder time of year with clothes of any color, even white. Such an example was demonstrated in fashion shows for Carolina Herrera and Chanel.
✅ Choose black tights if you are embarrassed by wearing short skirts and dresses: thick, black tights will make you feel more confident.
❌ Dresses and skirts made of thick and heavy fabrics look good with thick tights. If you are wearing something light or flowy, choose transparent or semi-transparent tights.
Transparent black tights
✅ Choose black transparent tights to create an evening look, like with a cocktail dress.
✅ Such tights are good for every day too.
✅ Dotted tights are easily combined with any clothes. Such a print is hard to see from a distance but it gives some extra charm and elegance. Such tights are good for everyday wear or a party dress.
❌ Dotted tights are not appropriate for the office.
Thick colored tights
✅ Despite the popular misconception, such tights are not only for little girls. If you don't know how to wear them correctly, such tights can add a little color to a boring look and help you express your individuality.
✅ Thick, colored tights should match the color of your shoes, clothes, or the color of the print on them.
✅ Choose tights that match the color of your shoes to make your legs appear longer.
✅ You can create a monochromatic look if you match the color of the tights with the color of your clothes as was demonstrated at a Versace show.
✅ If you're scared of trying bright colors, try deep, saturated hues, such as burgundy, graphite, brown, or dark blue. They look elegant and they can be a good alternative to thick black tights.
❌ Bright-colored tights are not good for a business style. The same is true for tights with pictures on them.
Tights with pictures and prints
✅ Tights with animal, geometric, or floral prints should be combined with simple one-colored looks. Your tights will be in the spotlight, so it's better if all other elements of the look are simple.
✅ If you are brave, you can combine different prints on tights and clothes. You can see examples of this in shows released by Nina Ricci and Versace.
✅ Thick tights with patterns can be combined with outdoor clothing items, such as winter coats or fur coats.
✅ If you want to wear tights with prints but are scared that the look is too strange, wear high boots so that the print is seen only between the boots and the skirt. You can use this with thick colored tights too.