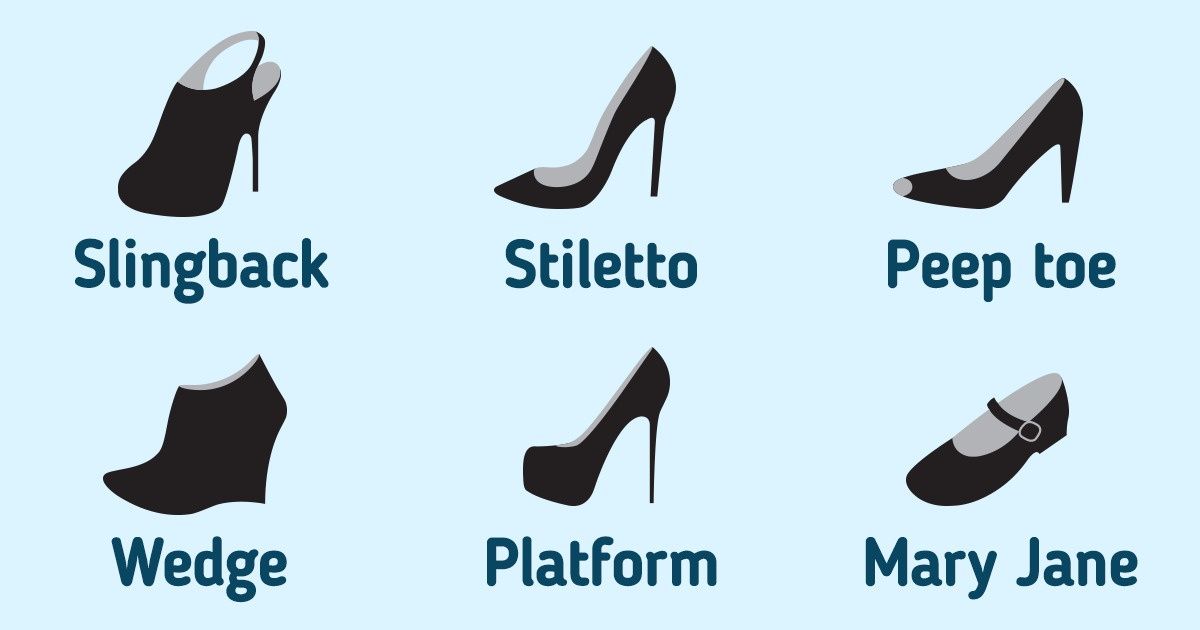 A Guide to Women's Shoes
For many women, footwear is an essential part of an outfit. Whether they have high heels or flats, there are a lot of types of shoes that can be difficult to identify at first glance. Fortunately, each one has details that will help you describe them more accurately the next time you go shopping and want to choose the perfect pair for every occasion.
5-Minute Crafts has prepared a guide with some of the most common shoe types and their main characteristics.
Types of shoes
High heels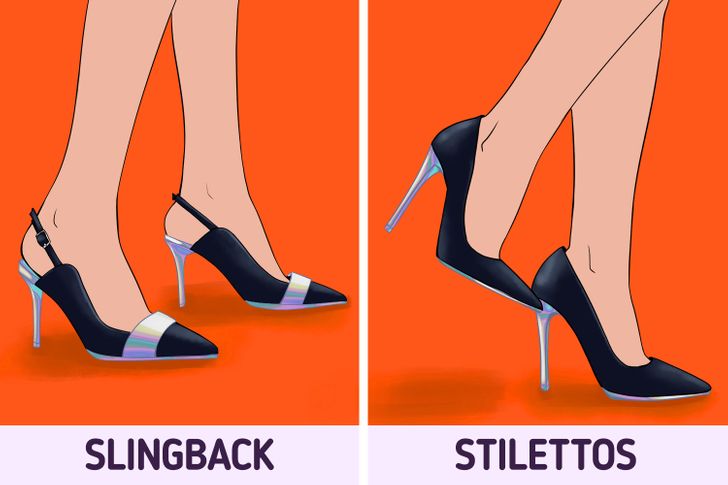 Slingback: These are a combination of the pointed toe of a classic shoe and a sandal. They feature a strap with a buckle that attaches them to the heel.
Stilettos: They have a thin, high heel and can reach a height of more than 3.5 inches. They are ideal for formal or black-tie events.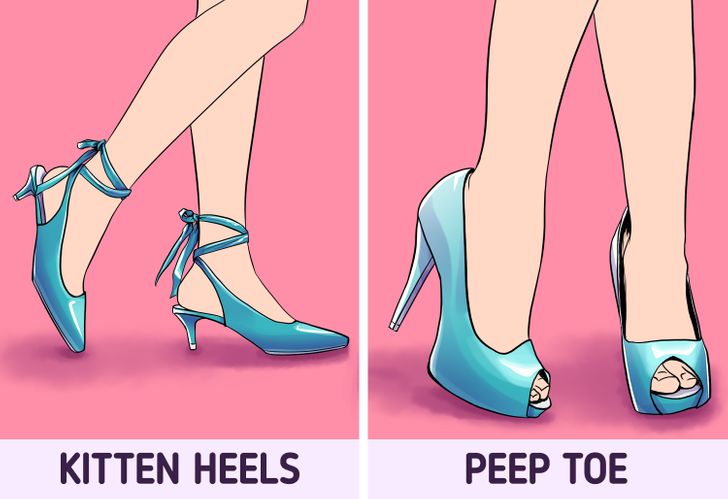 Kitten heels: Their height can be anywhere from 1.5 inches to 1.75 inches high. They are easy to recognize since the back of the heel has a slight curve to it. Being relatively low shoes, they are perfect for those who want to start getting used to high heels by wearing them on a daily basis.
Peep-toes: They have a small opening at the front that allows a view of the toes. Some may have a platform at the front for added comfort. As they have a formal look, they can be combined with business attire or party looks.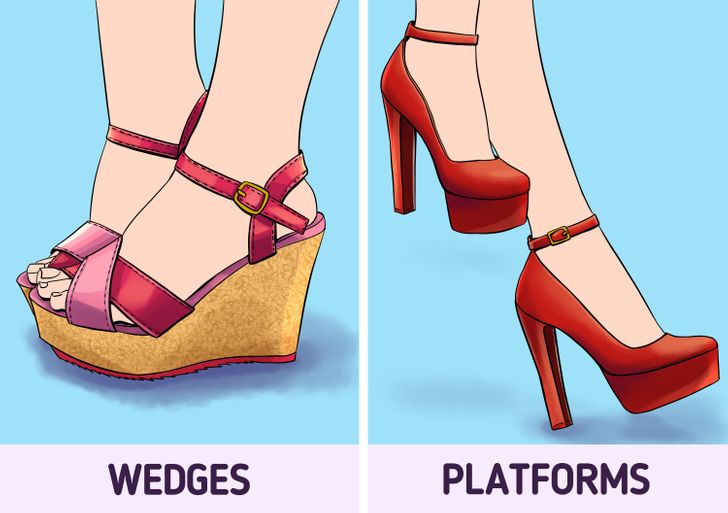 Wedges: They're characterized by having a single piece that serves as both the sole and the heel, with the back part being visibly higher than the front part. They are usually very comfortable compared to other high-heeled shoes and are ideal for a casual look.
Platforms: They have a base at the front and a high heel at the back. The front sole can reach up to 3.5 inches, giving greater comfort and stability.
Flat shoes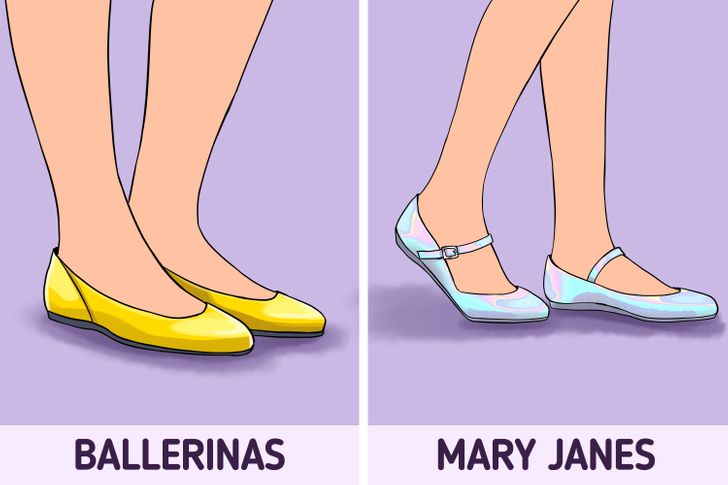 Ballerinas: Inspired by ballet shoes, they're made of a low sole with a round line. They can be found with pointed toes, which are recommended for formal looks; and the rounded toe models are better for casual outfits.
Mary Janes: This is a specific type of ballerina shoe that has a strap that goes over the instep and adjusts on the side. They can be found with low soles or heels and pair very well with classic looks.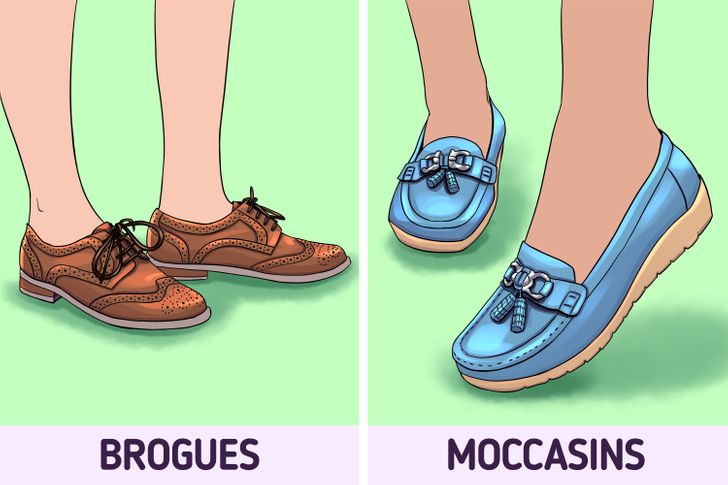 Brogues: They're a type of footwear of English origin. They have thick soles, cover the whole foot, and have laces on the instep. They are characterized by having small holes that are part of their decoration.
Moccasins: They don't have any type of closure and usually have a wide piece on the instep, sewn on the sides. They are typically made of leather with light and flexible soles. At the same time, they may have decorative details near the toe. They look great with jeans and light-colored pants.
Espadrilles: These are made of fabric and have a hemp sole. They can be found in a flat version or with a wedge heel. They are ideal for wearing during spring and summer with casual and informal looks.
Mules: They're a type of open-toed shoe, usually with a pointed toe. Although they don't typically have a heel, they can be found in higher options and in a variety of materials. They are ideal for casual outfits.
Bonus: types of boots