How to Cook in a Multicooker
A multicooker is a gadget that doesn't seem really necessary in your kitchen. But when you use it at least once, you'll realize all the advantages it has over a stove or an oven. Convenience is the keyword here — only a multicooker can make complex dishes without you having to lift a finger.
At 5-Minute Crafts, we decided to share a few of our favorite recipes for multicookers with you that we hope you'll put to good use.
The multicooker is called this for a reason. You can fry, stew, boil, bake, steam, and make yogurts at low temperatures in it — usually, this device can comply with most modern methods of cooking. Since multicooker models can differ from each other, like in programming and possible temperatures, we won't be giving instructions on how to use the machine. Instead, we'll just tell you the recipes of dishes that we like to cook most often.
Chicken pilaf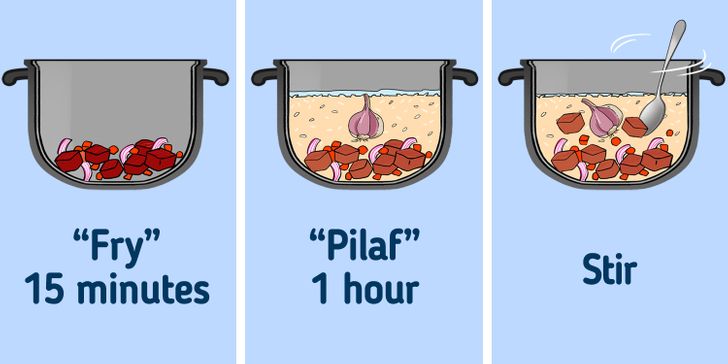 Ingredients:
1.1 pound of pilaf rice
10 ounces of chicken breast
1 medium-sized carrot
1 big onion bulb
1 head of garlic
Refined sunflower oil for frying
Salt, pepper, and spices to taste
The cooking process:
Pour some cooking oil into the multicooker pot.
Put finely chopped onions, carrots, and diced chicken breast into the pot. Add salt, pepper, and pilaf spices to taste. Stir.
In the "fry" mode, cook the meat for 15 minutes, stirring occasionally.
Rinse the rice in cold water. When the "fry" mode is complete, put the rice on top of the meat.
Wash the head of garlic and stick it into the rice, whole.
Pour water into the pot which is enough to cover the rice, but not more.
Close the pot and cook the pilaf for 1 hour in "pilaf" mode or in manual mode at 212°F.
When the multicooker turns off, stir the contents of the pot.
Other ways you can make this dish:
Chicken can be replaced with any other meat to taste.
If you plan to cook fatty meat, you don't need to add oil or fry it beforehand. Just put the meat and vegetables into the pot, stir them, then skip straight to the step with rice.
Rice pilaf can be replaced with bulgur, buckwheat, or quinoa.
A healthy lunch consisting of 3 dishes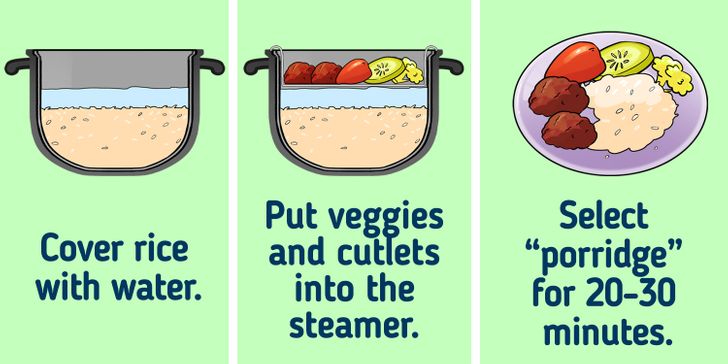 Buy the Crock-Pot Multi-Cooker, Programmable with Slow Cooker, Saute, Roaster and Food Steamer, 5.6 Litre (6-7 People), Removable Bowl [CSC024] https://amzn.to/2UqS94X
This recipe can be implemented under the multicooker program, "steam." We'll cook grains as a side dish, steamed chicken cutlets, and steamed vegetables.
Ingredients:
Cutlets:
10 ounces of chicken fillet
1.5 ounces of an onion bulb
2 cloves of garlic
Salt and spices
Side dish:
Overall, you'll need 10 ounces of the following vegetables: zucchini, broccoli, cauliflower, potatoes, bell pepper, and green beans.
7 ounces of grain to taste, like rice or buckwheat
10 ounces of water
The cooking process:
For cutlets, make minced chicken with onions and garlic. Add salt and spices to it. Form the patties.
Rinse the grains, and put them in the multicooker pot. Add salt to taste.
Pour cold water into the grains.
Place a special container for steaming on the multicooker pot. It comes with the device.
Put cutlets on one half of the container and vegetables on the other.
Turn the program to "porridge." It usually takes 20 or 30 minutes. The duration of the program depends on the model of the multicooker.
After the program ends, remove the cooked food from the pot.
Cooking tips:
You can cook turkey, pork, or beef cutlets in the same way.
Cutlets can be replaced with fish fillets, which are a great choice for steaming.
You can use frozen vegetables, but we recommend thawing them for 20 minutes at room temperature before cooking.
Broth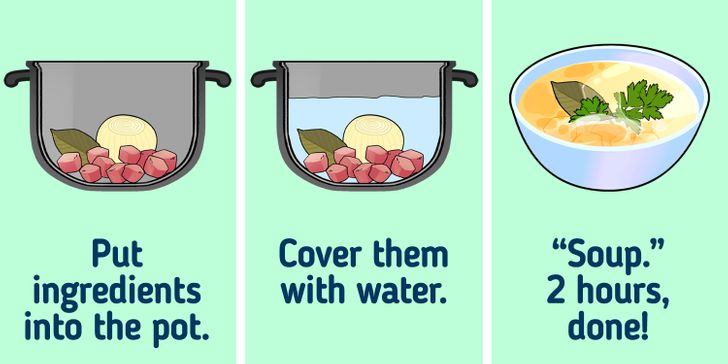 Ingredients:
1.1 pound of chicken — choose the parts to your liking.
A big onion bulb
6 to 8 bay leaves
10 drupes of black pepper
Salt and spices to taste
Water
The cooking process:
Put pieces of chicken into the multicooker pot.
Peel the onion, wash it, and put it into the pot.
Add pepper, salt, bay leaves, and other spices to taste.
Fill the pot with water.
Turn on the "soup" mode, or set the temperature to 212°F.
Boil the broth for 2 hours.
Cooking tips:
Chicken can be replaced with other types of meat. Beef or lamb broth should be cooked longer, for around 3 hours.
5-Minute Crafts gets commissions for purchases made through links in this post.
Check out these genius hacks and gadgets that will save you cooking time