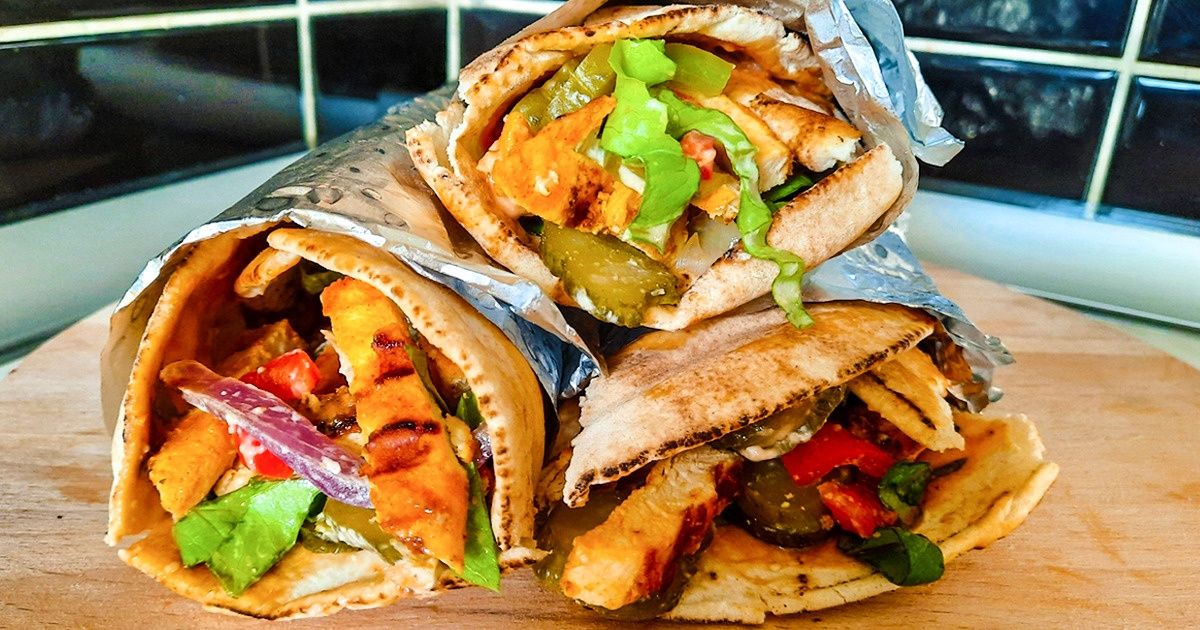 How to Cook Shawarma
Shawarma is a Middle Eastern dish made from pieces of fried meat, vegetables, and lettuce, seasoned with a sauce boasting numerous spices, and wrapped in pita or any other kind of flatbread. The original recipe is prepared from meat cooked on a vertical skewer, but in home conditions, it can also be prepared on a regular grill or roasted in the oven on a wire rack.
5-Minute Crafts challenges you to cook homemade chicken shawarma yourself. The recipe is so simple that even a newbie can easily handle it.
Ingredients
Meat and marinade:
500 g of chicken fillet

8 tbsp of non-sweet yogurt

1/2 medium-sized onions

1 tsp of salt

1 tsp of ground black pepper

2 tsp of ground chili pepper

1/2 tsp of chili pepper flakes

1 tsp of cumin

1/2 tsp of turmeric

3-4 pressed cloves of garlic

1 tsp of ground coriander

1/2 tsp of ground cinnamon

1-2 tsp of lemon juice

1 tsp of olive oil
Sauce:
2 tbsp of sesame seeds

4-5 pressed garlic cloves

1 tbsp of apple cider vinegar

1 tbsp of lemon juice

8 tbsp of mayo

1/4 tsp of salt

1/4 tsp of ground black pepper

1/4 tsp of oregano

1-2 tbsp of olive oil
Add-ons:
2-3 bell peppers

1 onion

Several leaves of lettuce or Napa cabbage

5-6 pickled cucumbers

3.3 fluid oz of chili sauce

1/2 of a pressed garlic clove (optional)

Some olive oil

6-7 pieces of any type of flatbread that you'd like to wrap your shawarma in (pita, laffa, etc.)
How to cook it
1. Cut the raw chicken into thin slices.
2. Combine all the ingredients for the marinade in a ceramic or glass bowl, and mix well. Properly rub each piece of meat with the marinade so that it evenly covers the chicken. Cover the bowl with plastic film or aluminum foil, and put it in the fridge for 2-3 hours.
3. Mix all the ingredients for the sauce. Make it smooth, using a blender. Put the prepared sauce aside. If you don't have any blender on hand, you can use about 1 tbsp of tahini instead of sesame seeds and mix it manually with other ingredients until smooth.
4. Cut up some onion and bell pepper. Add a bit of olive oil to the surface of the grill and fry the vegetables on it for a couple of minutes so that they become a bit softer and juicier. If you don't have a grill, you can fry them on a regular frying pan.
5. Wash the lettuce leaves well and dry them with a clean towel. After that, cut them into thin strips. You can choose to sprinkle them with lemon juice if you'd like. Cut some pickled cucumbers into circles.
6. Brush the surface of the grill with olive oil. Remove the meat from the marinade and grill at 390°F-430°F until golden brown. Cut the cooked meat into small strips.
Collecting the shawarma
1. Take a piece of flatbread. Hold it a bit between wet towels if it's dry and breakable. Mix the ready-made chili sauce with half of a pressed garlic clove. Apply some of this mixture onto the flatbread. Apply the same amount of the mayo-based sauce.
If you're using pita, make sure to first apply the sauce to the inside, then start putting the stuffing on one of its inside parts in the order described below.
2. Put on the lettuce leaves, followed by the mixture of fried vegetables.
3. After this, place the pickled cucumbers cut in circles. Finally, add the meat pieces. Pour a bit of the mayo-based sauce on top of the mixture.
4. After this, wrap the flatbread with the stuffing inside, slightly grill the shawarma from both sides, and wrap it with aluminum foil. It's ready!
If you're cooking your shawarma in pita bread, grill it on both sides after filling it with stuffing. There is no need to wrap it with foil. Bon appétit!