How to Make Vegan Ground Beef
This vegan ground beef is easy to prepare and is free of grains, gluten, soy, and nuts. Also, it has lots of protein and fiber. It's healthy, tasty, and 5-Minute Crafts is sure that those who do not eat meat, and even those who eat meat, will love it.
What you'll need: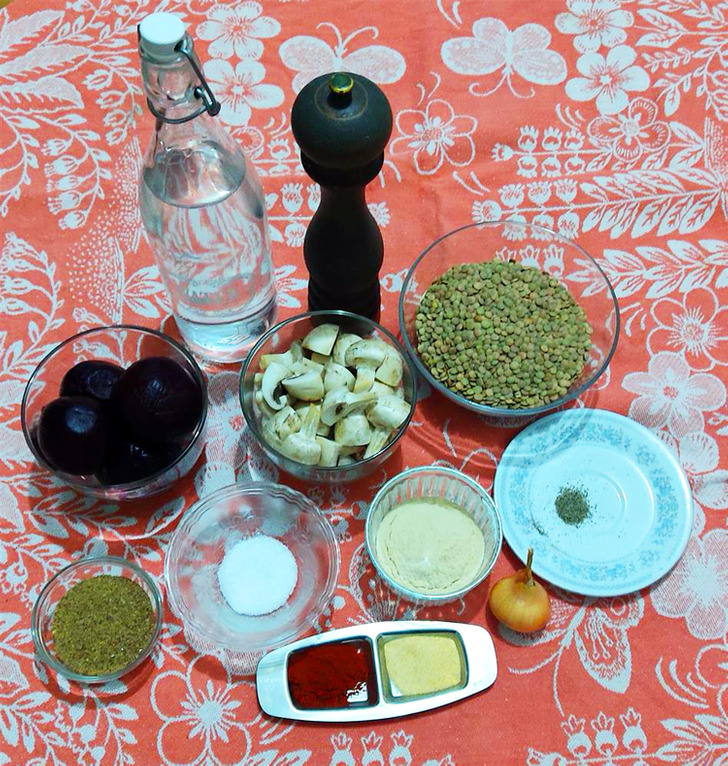 The ingredients for this dish are common and economical.
Brown lentils — 2 cups (400 g)
Water
Can of whole or sliced beets, not sour — 1 (15 oz/425 g)
White mushrooms — 6 oz (170 g)
Medium-large onion, trimmed, cut into large chunks — 1 small (about 5 oz/142 g) or 1/2 medium
Coconut flour — 1/3 cup (37 g)
Flaxseed meal — 1/4 cup (26 g)
Garlic powder — 2 teaspoons
Smoked paprika — 1 1/4 teaspoons
Fine sea salt (more or less to taste) — 1 1/2 teaspoons
Freshly cracked pepper (more or less to taste) — 3/4 teaspoon
How to prepare: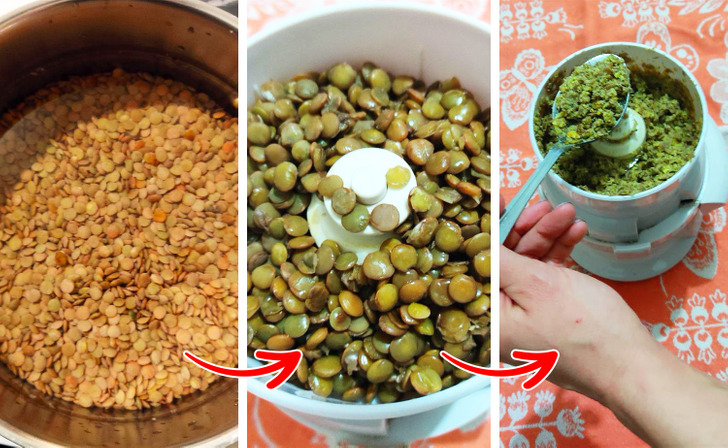 Step 1: Pour water (to cover by at least 1 inch / 2.5 cm) and lentils into a medium-sized pot. Bring t to a boil and then lower the temperature to low and simmer, uncovered, for 10 minutes (the lentils will be slightly undercooked). Drain and rinse under cool water.
Step 2: Put the blade in the food processor. Let it chop until a few small irregular pieces remain.

Step 3: Scrape the lentils into a large bowl (no need to clean the food processor).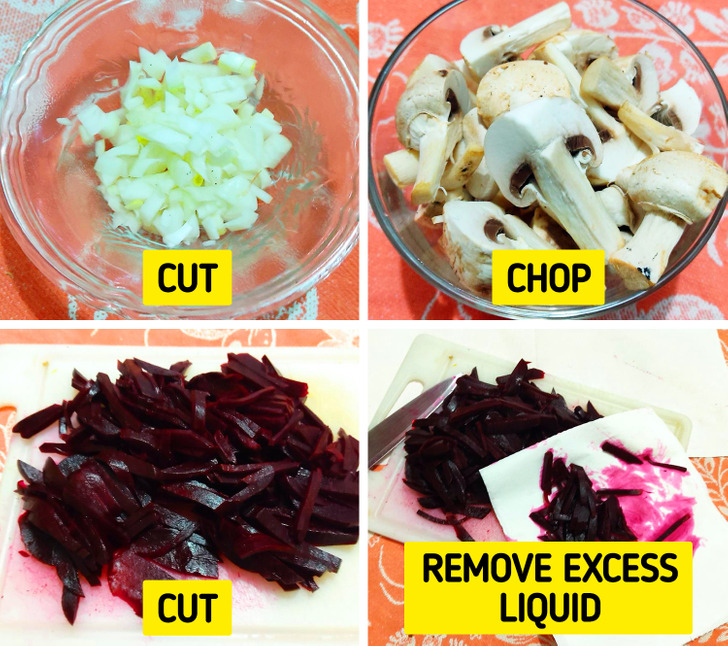 Step 4: Chop the mushrooms into quarters and cut the onion and beets. Before you put the beets into the food processor, firmly press them between layers of paper towel to remove any excess liquid.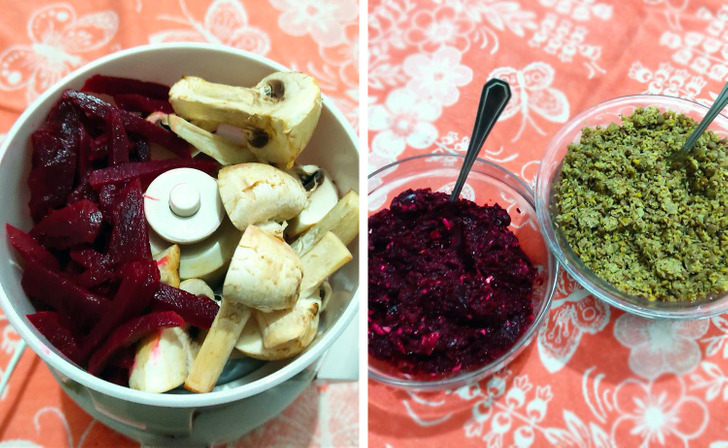 Step 5: Place the sliced quartered mushrooms, chopped beets, and trimmed onions in a food processor bowl. Process until very finely chopped, but not to turn this into puree. Stop several times to scrape the bottom and sides of the bowl. When everything is done, add lentils to the bowl.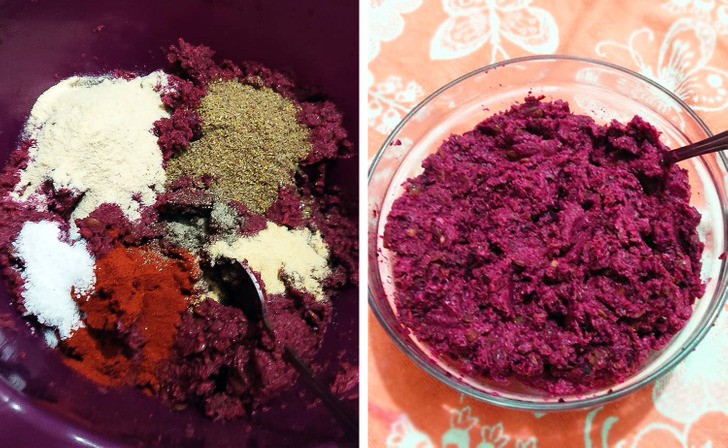 Step 6: Combine the 2 mixtures into one and add the remaining ingredients. Stir everything together until blended. Taste it and adjust the seasoning to suit your taste.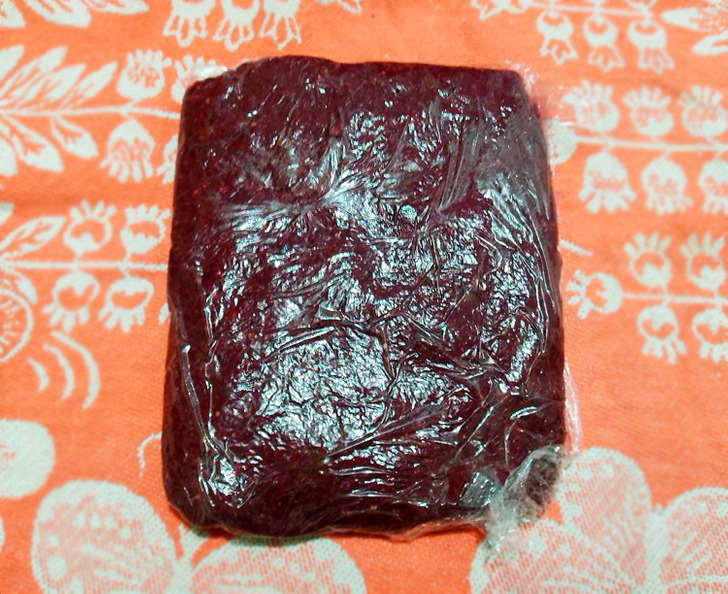 Step 7: Use it immediately, or you can store it in the freezer (for up to 6 months) for future use. Form a rectangle and wrap it tightly in plastic wrap. Once defrosted, you may need to add a few more teaspoons of coconut flour.
Bonus: How to make plant-based burgers.
Form burgers from one pound (454 g) of this mass. Place them in a baking tray lined with parchment paper and bake in a preheated oven at 375°F/190°C for about 18-25 minutes until browned. Toward the end of baking, you can flip them so that they are evenly grilled on both sides. Be careful to not break them.

Note: You can keep the meat oil-free or add 1 or 2 tablespoons of oil for 1 pound (454 g).