What to Wrap in Lavash or Tortilla: 20+ Ideas for a Tasty Snack
A lavash or tortilla with a filling can be a good alternative to a regular sandwich. Unlike bread that goes stale very quickly, tortilla and lavash can be stored for a longer time. You can save them from dryness by wrapping them in a wet kitchen towel. You can use almost any ingredients as filling, including salad and meat leftovers.
5-Minute Crafts is going to show you different combinations of foods and sauces that you can use as fillings for a lavash and a tortilla.
Rolls filled with cabbage, hummus, vegetables, and vinaigrette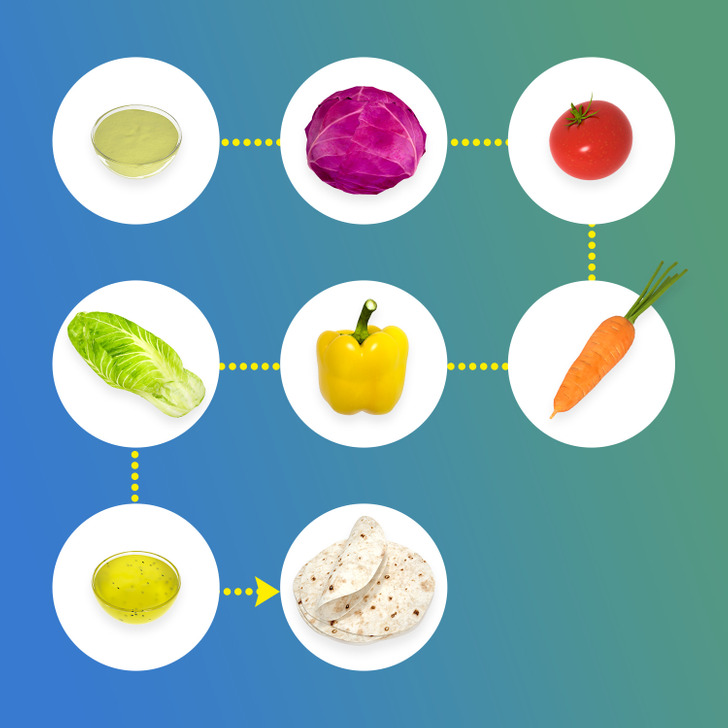 Ingredients:
lavash or tortilla
hummus
red cabbage
tomato
carrot
bell pepper
lettuce
How to cook: Put tortilla or lavash on a cutting board. Cut the cabbage, carrots, bell pepper, and lettuce in sticks, and add tomatoes. Spread hummus around the tortilla or lavash, put the vegetables, cabbage, and lettuce on the top, and add vinaigrette. Wrap the bread. Done!
Triangle envelopes with lettuce, chicken, cherry tomatoes, cheese, and hummus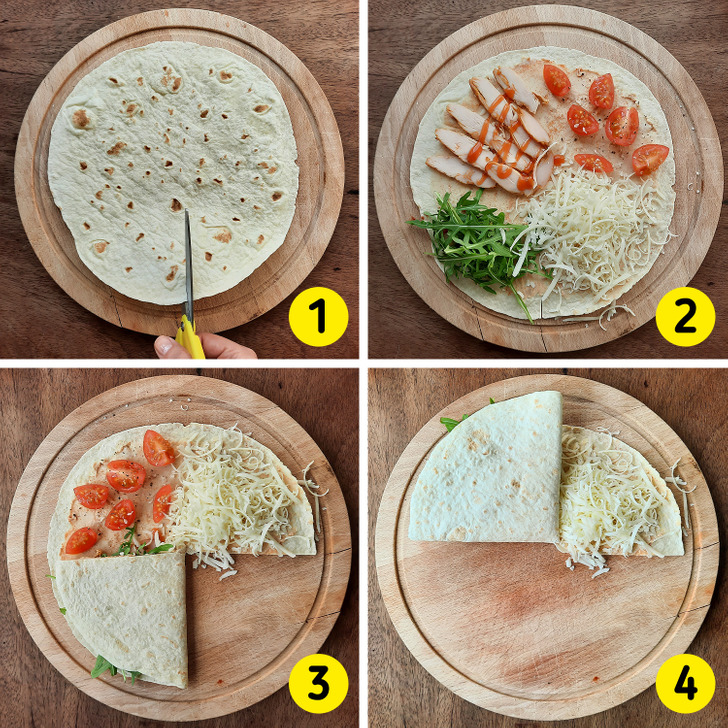 Ingredients:
lavash or tortilla
lettuce
hummus
chicken fillet
sweet chili sauce
cherry tomatoes
slices of firm cheese
How to make: Put tortilla or lavash on a cutting board. Make a cut from the bottom to the center as the photo above shows. Divide the tortilla into 4 even parts, spread hummus around it, and add a little bit of chili sauce. Prepare the ingredients: grate the cheese, cut the chicken into strips, and cut the tomatoes into halves or quarters. Put ingredients on the tortilla as the photo above shows and wrap the edges to make a triangle envelope. Heat it in a frying pan or grill it to melt the cheese. Done!
Triangle envelopes with avocado, corn, cheese, spicy pepper, and chili con carne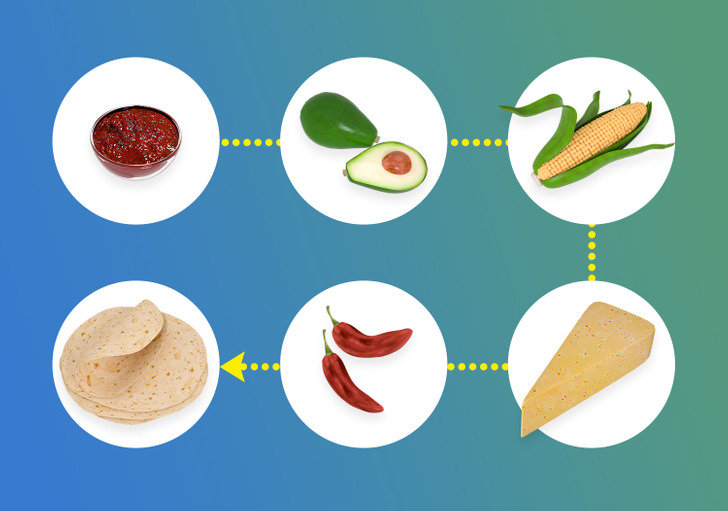 Ingredients:
tortilla
guacamole or avocado mash
fresh cilantro
corn
marinated pepper
cheese (any kind you like)
chili con carne sauce
How to make: Place the tortilla in front of you. Visually divide it into 4 parts. On 1/4, place the avocado mash or guacamole, and add some cilantro on top. On the other 1/4, place corn and a bit of spicy pepper on top. On the third part, place grated cheese. And the last part should be covered with chili con carne sauce. Wrap the tortilla like in the recipe above. You can heat the tortilla in a frying pan or grill before serving. Done!
Lavash with eggs, lemon, avocado, baked beans, and peppers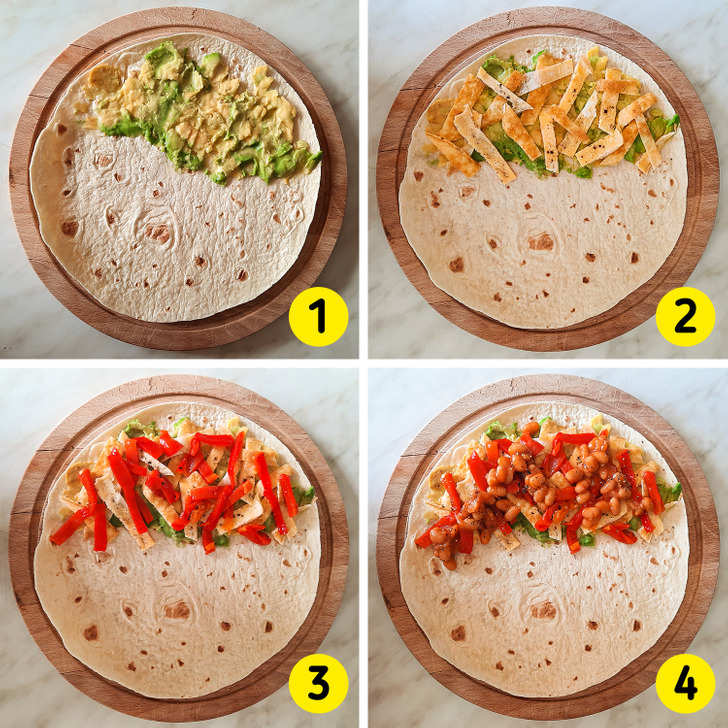 Ingredients:
lavash
egg
avocado
olive oil
lemon
baked bell pepper
canned baked beans
salt, pepper
How to make: Whip the eggs and fry them in a frying pan over medium heat. Put them aside. Add some olive oil to the pan and sauté the beans over medium heat for a minute. Mash the avocado and spread it around the lavash, sprinkle with lemon juice. Add the fried eggs, peppers, and beans. Make a wrap. Cut it in half before serving.
Roll with smoked turkey, lettuce, cherry tomatoes, cucumbers, and cheese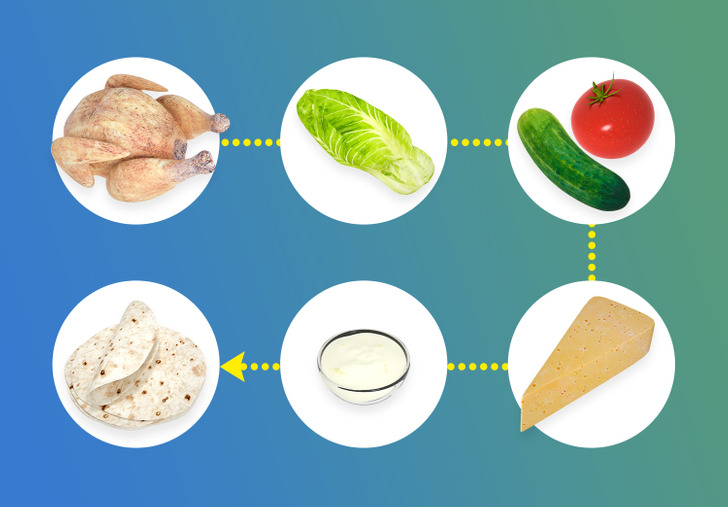 Ingredients:
tortilla
smoked turkey
lettuce
cucumber
cherry tomatoes
cheddar
ranch sauce
How to make: Place a tortilla in front of you. Cut smoked turkey into thin pieces and put them on the tortilla. Cut the lettuce into sticks and add them on top of the turkey. Cut the tomatoes in half and cut the cucumber into slices. Add the vegetables on top of the filling, then the cheese and the sauce. Wrap it up. Done!
Rolls with crab sticks, eggs, cheese, and dill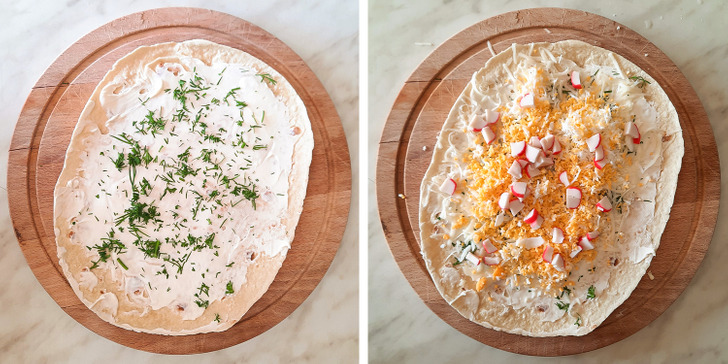 Ingredients:
lavash or tortilla
crab sticks
cream cheese
firm cheese
dill
boiled egg
How to make: Cut the egg, crab sticks, and dill, and grate the cheese. Layout the lavash and add the cheese to it. Put the dill, grated cheese, and a layer of eggs on top of it, then add the crab sticks. Wrap it up. Done!
Rolls with turkey, tangerine, bell pepper, cabbage, and almond leaves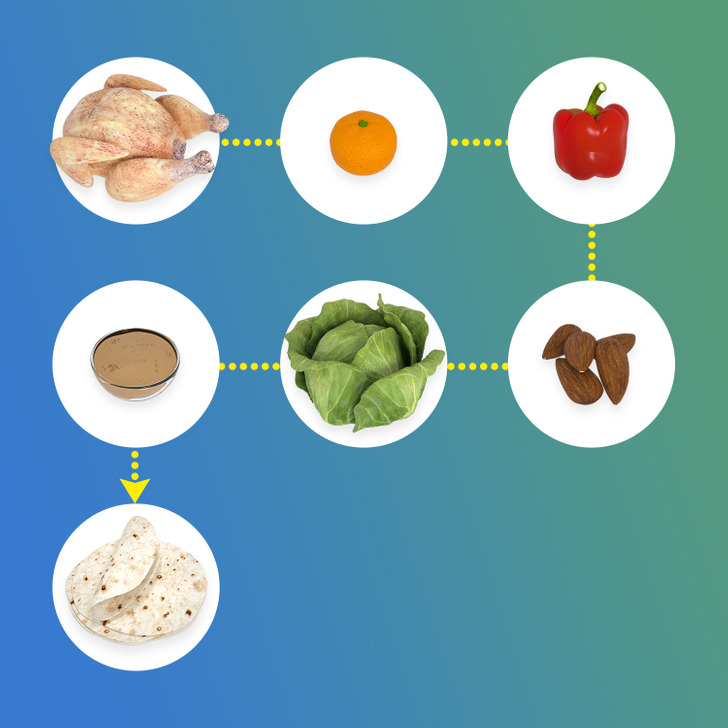 Ingredients:
lavash or tortilla
boiled chicken
tangerines
bell pepper
red pepper
almond leaves
cabbage
3 tbsp of Greek yogurt
2 tbsp of mayo
1 tbsp of soy sauce
1 tsp of Dijon mustard
1/2 tsp of sesame oil
1/4 tsp of Thai chili sauce
1 tbsp of sugar
How to make: Use a mixer or 2 forks to pull the chicken fillet. Peel the tangerine and divide it into pieces. Cut the red pepper and cabbage into sticks. Mix the yogurt, mayo, soy sauce, mustard, sesame oil, Thai chili sauce, and sugar to make a sauce. On the lavash or tortilla, add the pulled chicken fillet, tangerine pieces, red pepper, almond leaves, cabbage, and add the sauce on top. Roll it up. Done!
Other combinations for wraps and rolls
Sweet roll with poppy seeds, milk, honey, and vanilla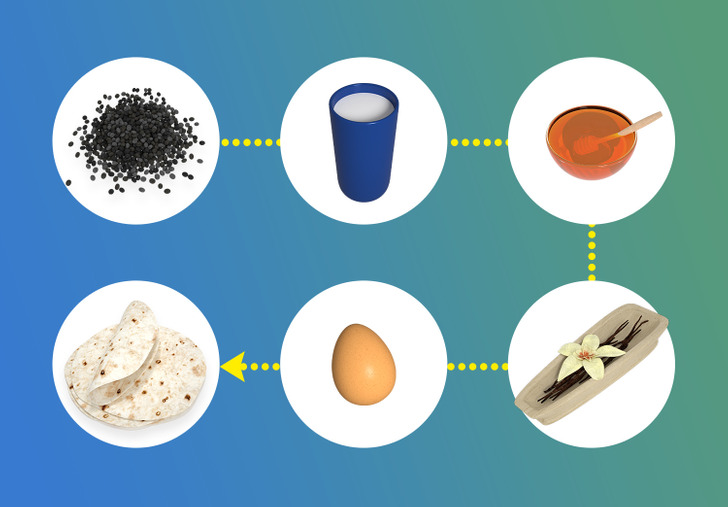 Ingredients:
2 lavashes
300 ml of milk
130 grams of poppy seeds
100 grams of honey
1 egg
1–2 grams of vanilla extract
How to make: Put the poppy seeds into a pot, add milk. Put it on medium heat for 10 minutes, don't forget to stir until the seeds get bigger in size. Don't cover it with a lid. Let the mix cool down, then add honey and vanilla extract.

Take 1 egg, separate the whites from the yolk. Add the whites to the mix and mix it well. Now you have your lavash filling.
Heat the oven to 350°F. Put the lavash on the board, put the filling on one side, and make a roll. Do the same with the other lavash. Put both rolls on the baking tray and put the yolk and the filling on the rolls. Bake them in the oven for 20 minutes. Take the rolls out, cover them with a towel, and cool them down before cutting.
Other combination of foods for sweet fillings