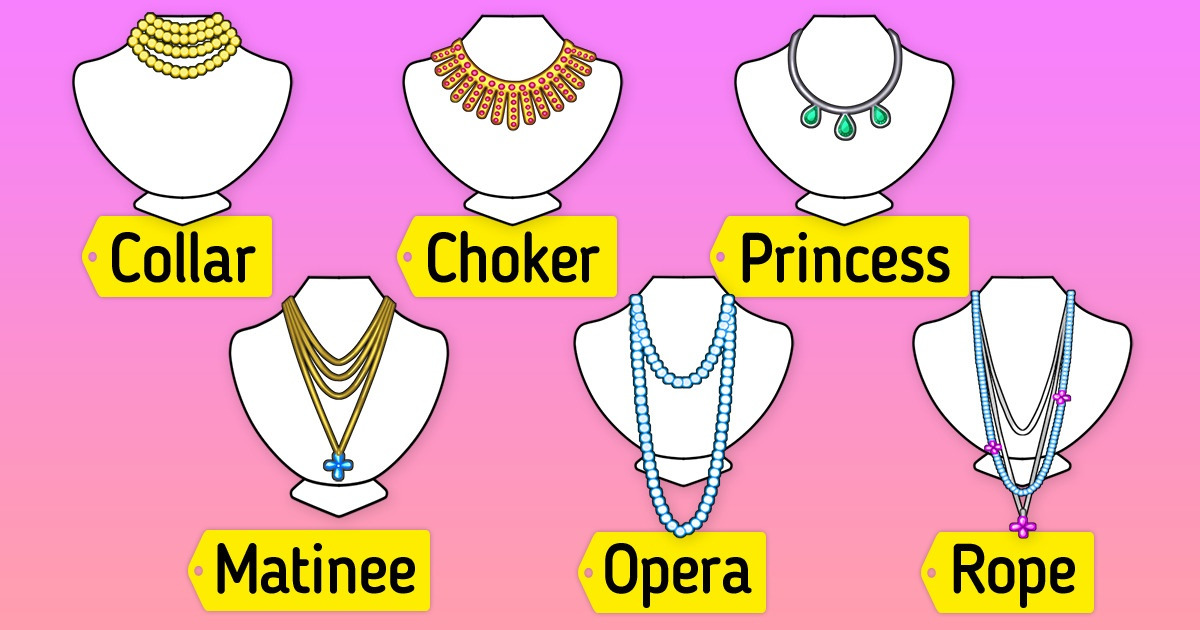 Different Necklace Types, and How to Combine Them With Clothes
The right necklace length can make your look special. It will complement your outfit and become its bright accent, while the wrong choice of jewelry can ruin your look. There are many types of necklaces, from thin gold chains neatly arranged at the base of the neck to longer pieces that are perfect for combining with other necklaces.
5-Minute Crafts will help you define the necessary length of a necklace, and describe how to combine clothes and different types of necklaces.
Collar
Length: 12-13 inches.
Placement: tightly around the neck
To be combined with: A collar looks best alone when it is not combined with any other necklace. It is suitable for clothes with low necklines or off-the-shoulder tops and dresses. A collar can be made from a variety of materials, including fabric. The most popular options are lace and velvet. Unlike longer types of necklaces, a collar doesn't move from its place because it fits tightly around the neck.
Choker
Length: 14-16 inches
Placement: at the base of the neck
To be combined with: A choker looks good with outfits with oval and V-necklines. Try to combine it with a longer necklace for contrast. A choker can be made from various materials. For example, in the Victorian era, they used velvet, gold, and ribbons.
Princess
Length: 17-18 inches
Placement: on the collarbone or just below it
To be combined with: Thanks to the classic length, it can be combined with clothes that have almost any neckline. A princess necklace is suitable for a wide range of outfits, from button-down shirts to evening dresses.
Matinee
Length: 20-24 inches
Placement: between the collarbone and the bust
To be combined with: A matinee is a great choice for both business and casual wear. You can combine this long necklace with other necklaces. A matinee looks best with a high neck or turtleneck.
Opera
Length: 28-36 inches
Placement: just below the bust
To be combined with: Since this type of necklace goes low, it suits clothes with different types of necklines. You can combine it with a choker and a V-neck to add a little contrast.
Rope
Length: 36-51 inches
Placement: up to the waist or below
To be combined with: A rope looks good with elegant business and evening clothes. You can wear it in several ways: wrapped several times around the neck, tied in a knot, dropped to the waist, alone, or as one of many layers with other accessories and neckerchiefs.