How to Pair the Colors of a Manicure and Pedicure
A manicure and pedicure can either elevate your look or totally ruin it. To avoid this and regret your chosen combination of colors, it's good to know whether it's okay to use different colors for your fingernails and toenails.
At 5-Minute Crafts, we decided to find out whether the colors of manicures and pedicures should match or not.
The evolution of nail varnish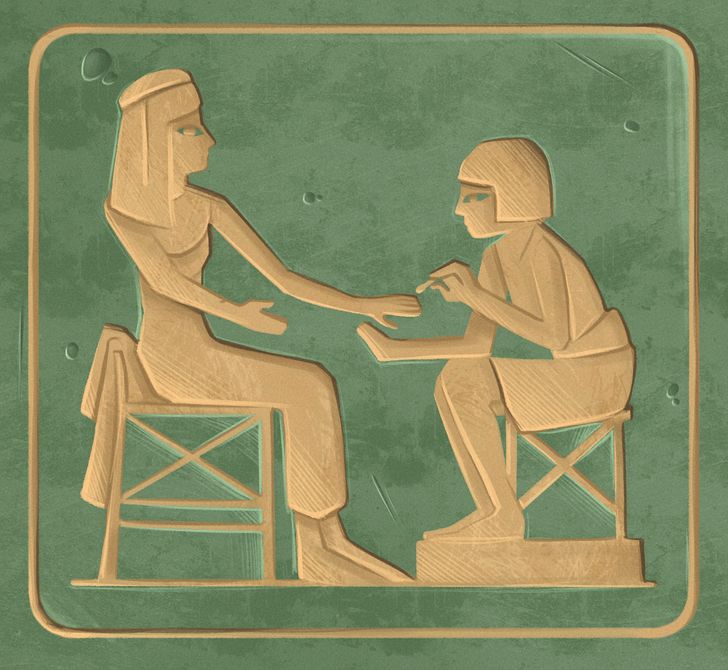 The first nail polish appeared in China and dates back to 3000 BCE. At the time, egg whites, gelatin, beeswax, vegetable oil, and gum arabic were used for production. And even in ancient times, women painted their nails not only on their hands but also on their feet. In Turkey, women in harems painted their toenails with henna, sending a message to the sultan this way. In Egypt, henna was also used to give nails a reddish tint. Later, the nails were polished with oils and special pastes to make them shine.
The first industrially produced nail polish was clear. Then they launched shades of pink, coral, red, and peach. By the end of the twentieth century, the range expanded to colors such as black and dark purple. And in 1995, Chanel popularized reddish-black nail polish. Around the same time, beauty salons began to offer pedicure services where toenails were painted with the same varnish that was used for the fingernails.

Over time, it became possible to add embellishments, like crystals or stickers, to manicures and pedicures.
The first woman who used different colors in a manicure was Christina Fitzgerald, a nail artist and the founder of the brand of the same name. She painted her ring and middle fingers with a varnish that was different in color from the varnish on the nails of her other finger, thus showing that there are no boundaries in the world of manicures.
Health and beauty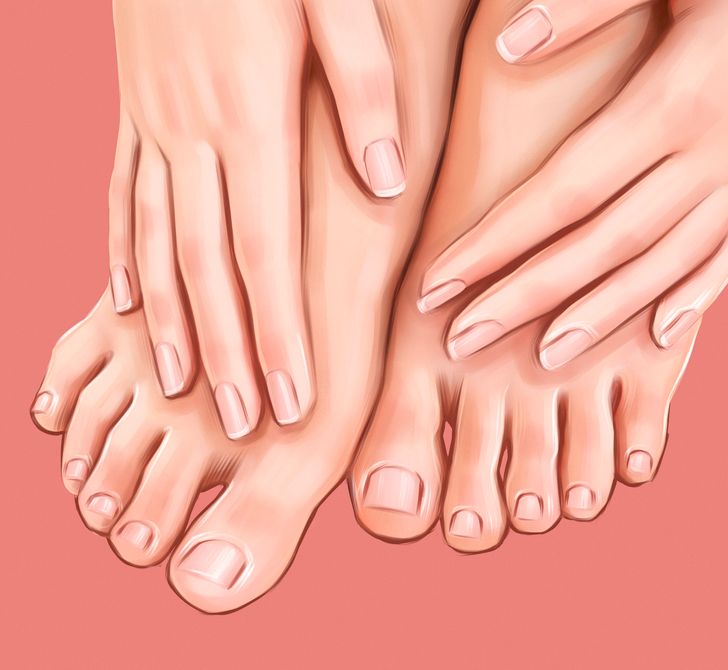 Manicures and pedicures aren't just about beauty, but also health. Most often, we think about only what color nail polish to choose. However, these procedures, performed by a professional technician, have a beneficial effect on our health.
The prevention of fungal infections
Ingrown toenail treatment
Cleaning from contamination
Treatment of cracks and broken nail plates
Improvement of blood circulation
What approaches to pairing mani-pedi colors there are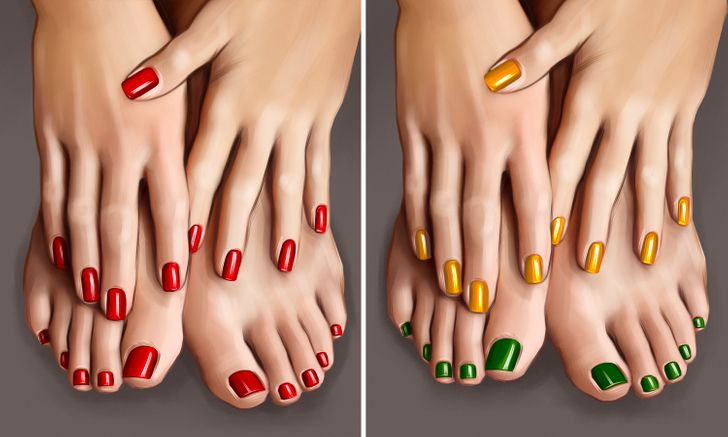 Should you stick to the rule about mani-pedi matching colors? This question is a real dilemma because even the leading nail artists disagree.
A manicure and pedicure of the same color are considered a classic option by nail artists like Madeline Poole (a world-famous nail artist) and Naomi Yasuda (the nail artist to Lady Gaga, Madonna, and Kelly Osbourne). After all, classics never become outdated, and if you want to make your looks more modern, you can add some nail design.
Kimmie Kyees (the nail artist to Rihanna, Katy Perry, and Kate Mara), Shonshon Ragui (OPI educator and trainer in India), and Jenna Hipp (a Hollywood nail artist) prefer to use different colors for manicures and pedicures. In their opinion, pairing varnishes of different colors on the hands and feet is very modern because there is a huge variety of colors and you shouldn't stick to just one. You can also combine a French manicure and colored pedicure or combine different shades from the same color scheme.
It's not necessary to match your tips and toenails. However, if you want to, then why not?
What colors are most trendy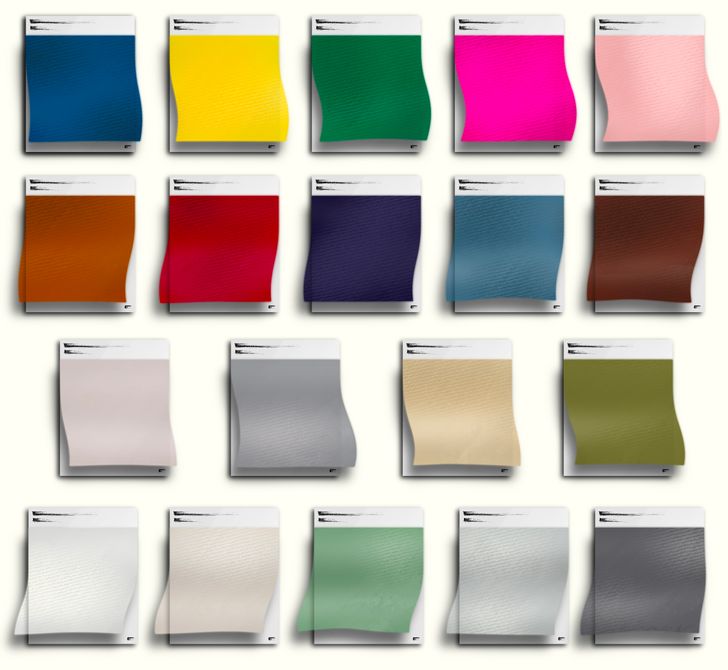 Fashion trends change every year, and the popular color palette changes with it. Each year, Pantone chooses a color of the year. In 2021, 2 colors were chosen:
Illuminating Yellow
Ultimate Gray
Also, the trendiest colors of Autumn/Winter 2021/2022 were named:
Brisk Blue
Illuminating Yellow
Rich Green
Vivid Fuchsia
Gentle Pink
Warm Sundried Clay
Vigorous Red
Blue-based Purple
Midtone Blue
Herbal Brown
Velvety White
Ultimate Gray
Blonde Beige
Olive Green
The trendiest colors of the coming Spring/Summer 2022 became:
Pastel Blue
Powdery Pink
Fuchsia
Sky Blue
Bright Yellow
Cool Blue
Mocha
Bright Purple
Heated Red
Snow White
Sandy Beige
Basil
Pale Gray
Deep Gray
Violet with red undertones was named the main color of 2022.
If you want to follow the trends, you can choose these colors for your next manicure and pedicure.
Nail polish color combinations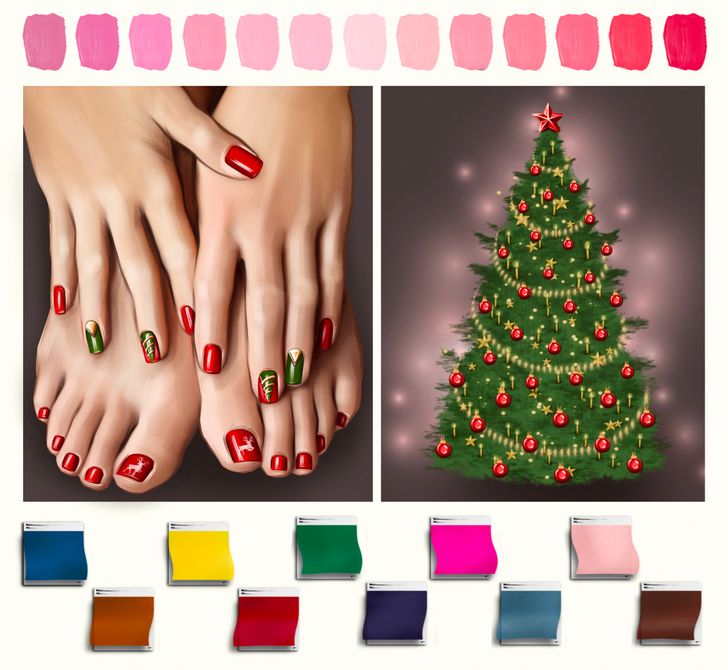 To make the choice of colors for your mani-pedi a bit easier, we suggest a few options of how you can combine different colors:
Pick different shades of the same color: for example, a combination of chocolate, mocha, and light beige, or shades of green.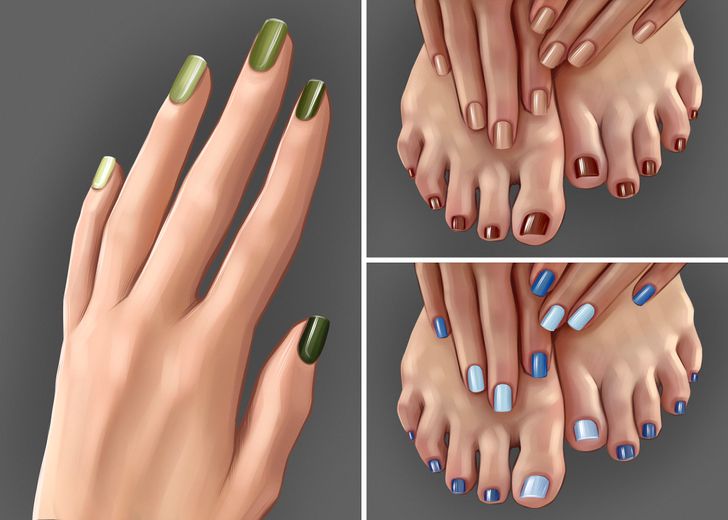 Pick combinations of colors of nature, like blue and yellow, orange and white, or red and green.

You can rely on the opinions of Pantone and combine colors that they deemed trendy, like yellow and gray, yellow and purple, red and powdery pink, and cool blue and snow white.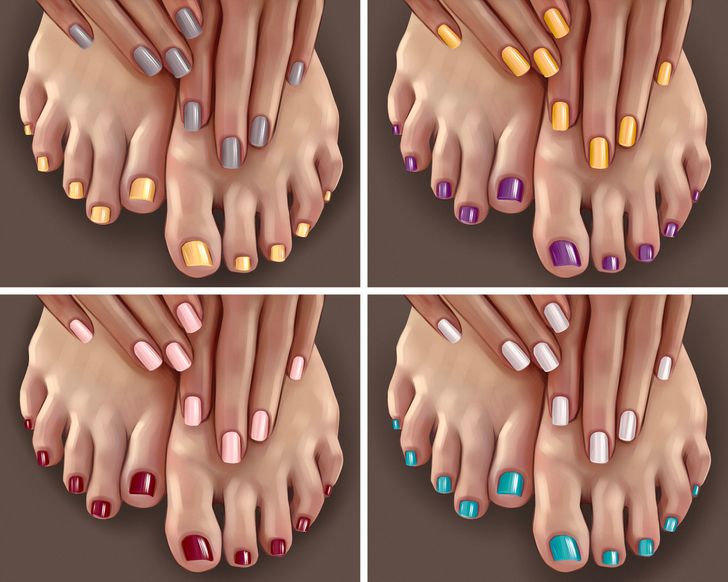 You can also use similar design elements in your manicures and pedicures.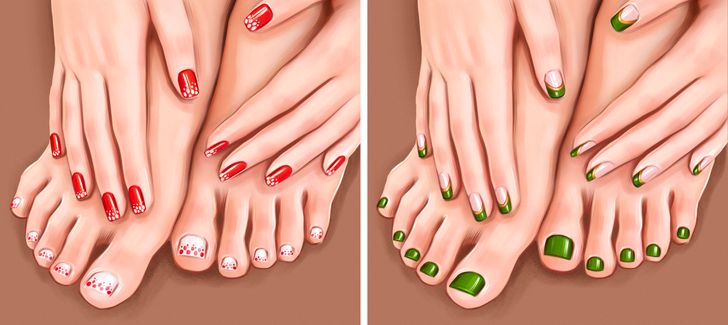 Check out these brilliant nail designs for beginner