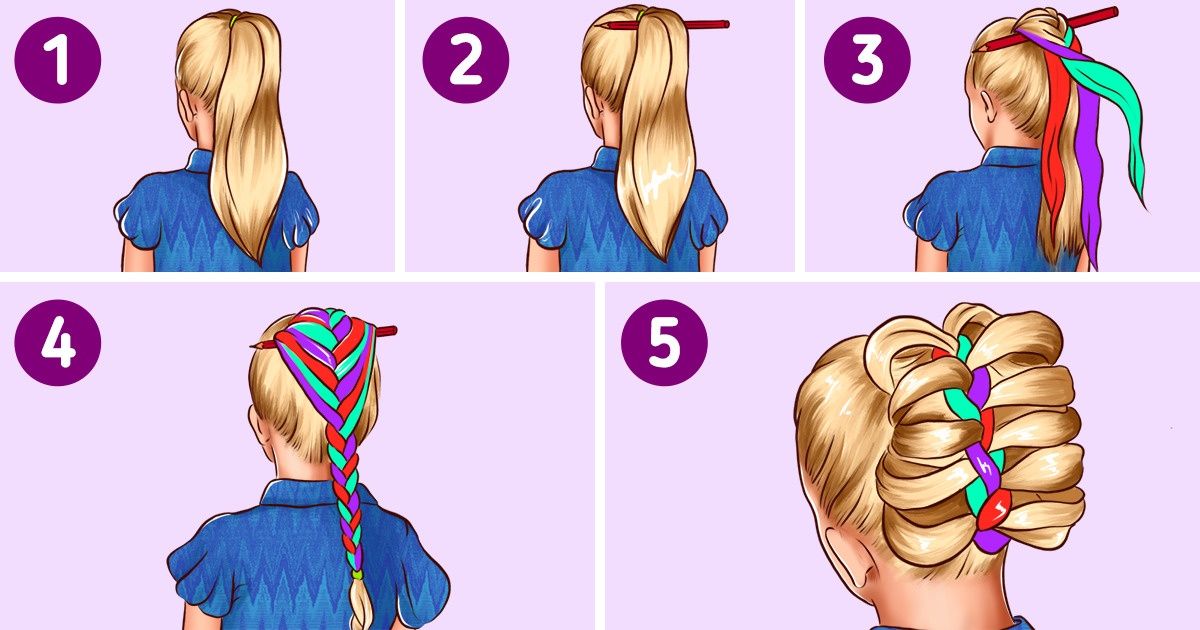 How to Style Your Hair for School Within 5 Minutes
Various hairdos and hairstyles add diversity to our lives, however, we don't always have time for making complex hairdos in the morning. That's why we found the quickest and most effective ways to style your hair.
5-Minute Crafts is going to show you 5 easy and beautiful variants of hairdos for girls with hair of different lengths.
1.
Make a high ponytail at the top of your head.
Insert a pencil under the elastic band. Take 2 strands on the sides of the ponytail and place them under the pencil the way it's shown in the photo above. Pull the last strand over the second and third ones and connect it with the first one. Braid the hair while adding strands from the ponytail and looping them through the pencil.
Continue adding all the hair into the braid.
Finish the braid and secure it with an elastic band in the bottom.
Remove the pencil from the ponytail and loosen the strands, then hide the braid under the strands with the help of bobby pins.
2.
Comb your hair to one side.
Make a ponytail at the back of your head, leaving a part of the hair loose near the front of the head. Take 2 strands of hair: one from the ponytail, the other from near the forehead.
Start braiding your hair the way it's shown in the photo above, gradually moving to the side. Slightly pull the upper strands, as if you were trying to give them extra volume.
Keep braiding in a circle, weaving strands from the ponytail at the back of the head into the braid.
At the end, secure the tip of the braid with bobby pins and loosen the strands on top.
3.
Make a ponytail.
Separate the ponytail into 3 strands and separate the right strand into 2 more.
Put the middle strands right through them. Do the same with the left strand.
Keep braiding, repeating the movements from points #2 and #3.
Secure the braid with an elastic band.
4.
Make a ponytail at the top of your head.
Wrap a long ribbon around the elastic band.
Criss-cross the ends of the ribbon around the ponytail the way it's shown in the picture.
Make a beautiful bow.
5.
Make a ponytail.
Arrange a few strands in a braid and secure them at the end with a small elastic band.
Tie up your hair and braid with discreet elastic bands, as shown in the photo.
Make sure there are even spaces between the elastic bands.
Decorate with bows or hairpins.