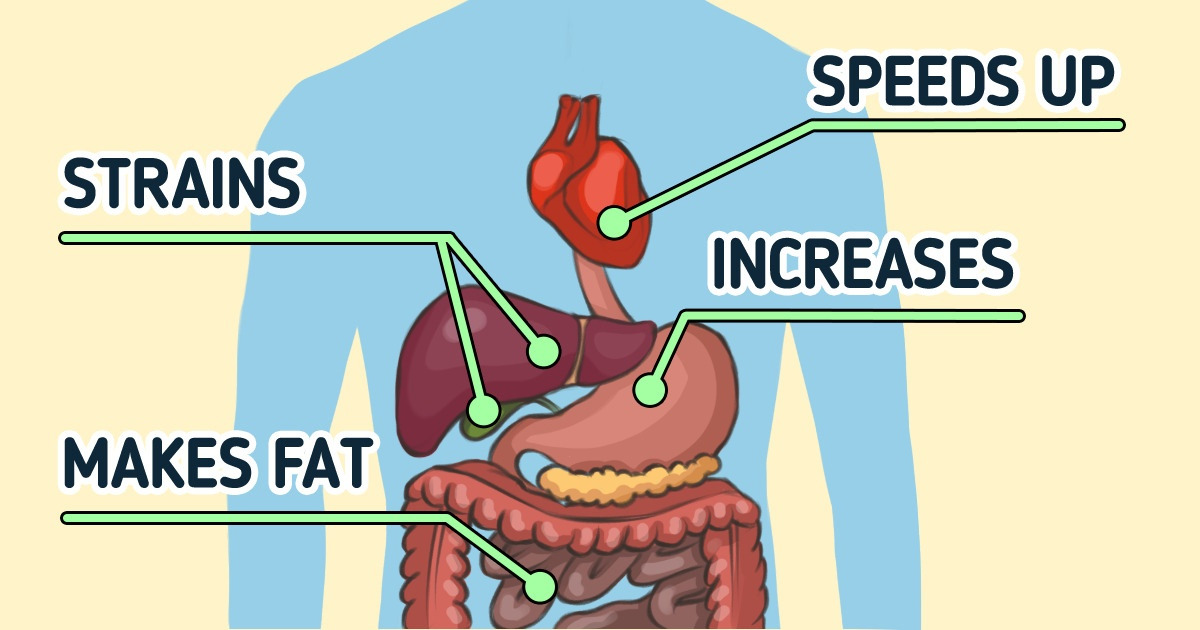 What Happens to the Body When We Eat Too Much
Just like a cell phone, our body needs to be charged. To function normally, the body needs water and food. But overeating has negative consequences for both our appearance and health.
With 5-Minute Crafts, you will find out what happens to the body when people eat too much.
Why we need food
What the body gets from food
Food contains:
Macronutrients — protein, fat, and carbs, where we get calories from. These elements are also necessary to support health.
Micronutrients — vitamins and minerals. They don't give us energy but help the body function properly.
Why we shouldn't eat too much
Even though food is incredibly good for the body, it can do harm when there's too much of it. Overeating is dangerous, especially when you eat fatty and bad foods.

The main problems of overeating are:
What happens when we eat too much
What to do if you ate too much
Here are a few recommendations to help you feel better after overeating.
Don't beat yourself up. It won't make things easier.
Drink a glass of water. It will help the stomach with digestion.
Don't lie down. Stay in a vertical position.
Take a walk. A slow walk will help you feel better.
Don't drink sodas.
Probiotics. You can help your body with probiotics. You can eat a little low-fat yogurt.
Mint tea will help you reduce the symptoms of overeating.
Ginger also helps the stomach digest food.
Causes of overeating
Genes. The genes that determine eating behavior can be inherited. Genes can increase the probability that a person will have compulsive overeating, but it's provoked by other factors.
People. If parents overeat, very often, the child will most likely act the same way.
Stress. Some people start eating much more after stressful events, like losing a job or breaking up with someone. But emotional overeating is temporary and it doesn't become compulsive.
Low self-esteem. Very often, people that overeat are not happy with their appearances because they compare themselves to the models on TV. After eating too much, they feel guilty which, in turn, can lead to more overeating.
Diet. Sometimes, trying to lose weight leads to overeating. It happens when people have unhealthy diets, skip meals, or eat too much. If people don't get the results they were hoping for, they can start eating too much.
Compulsive and emotional overeating
Compulsive overeating is an eating disorder where people eat too much in a very short period of time. They can't control themselves and they can't stop. After these episodes, they feel ashamed. These people often eat even when they are not hungry, they do it really fast, and they do it alone.

Emotional overeating is an attempt to mute emotions with food. For example, when people are sad, they might eat a lot of their favorite ice cream. People overeat when they feel really bad.