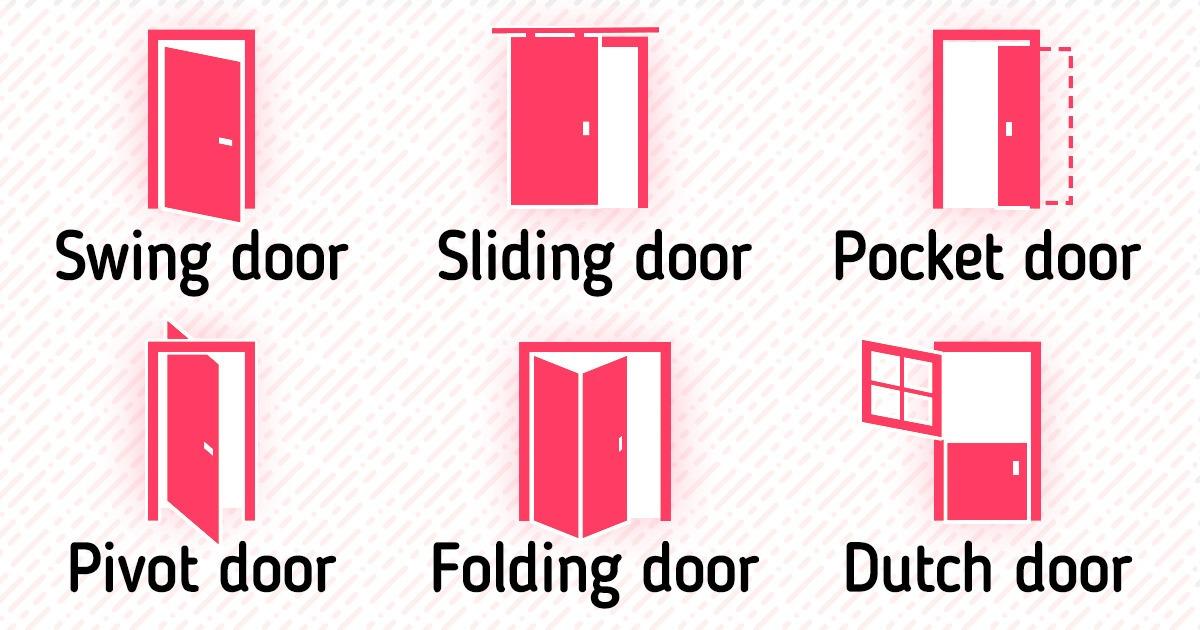 How to Choose Interior Doors
There are 2 types of doors that you can find in a store: slab doors and pre-hung doors. A slab door is a door with a pre-cut hole for a doorknob. It's cheaper, but it will take more work to install it. A pre-hung door is supplied with the frame and hinges. It is heavier and more expensive due to its construction, but the installation of this door will take much less time. However, these 2 alternatives are not the main thing you should be paying attention to.
5-Minute Crafts found 3 parameters that you should take into account when choosing interior doors.
Natural wood. Different types of wood are used to manufacture doors. For example, pine is in high demand, but it's not rigid enough, so scratches can appear on the door's surface. Doors made of ash, linden, and oak will be more practical due to their dense structure, high rigidity, and resistance to moisture. However, they cost more.
Chipboard is made by pressing sawdust and binders. As a result, durable and reliable door slabs are obtained. Then they are laminated and covered with a decorative film with patterns for a particular type of wood to give the product an attractive look. The disadvantage is that they don't withstand strong shocks, high humidity, and temperature changes.
MDF (medium-density fiberboard). This structure is similar to chipboard, but smaller sawdust is used to make it. This material is less resistant to moisture and deformation, so it's only suitable for dry rooms.
Glass. Interior doors made of this material are rarely chosen for residential premises, as they are transparent, which is not always convenient. They can also be patterned, colored, and matte. These structures often have a metal or wooden frame, but can be made without it. The minimum glass thickness is 0.2 inches. Tempered glass or a material called triplex is used for manufacturing, which does not break into fragments when damaged.
PVC (polyvinyl chloride). Most often, plastic doors are used in office buildings and public spaces, but they can also be suitable for home use. These doors are distinguished by their great ability to insulate for both sound and heat, their practicality in maintenance and operation, as well as their durability. They can be made in different colors or, for example, imitate the structure of natural wood.
💡 Manufacturers can combine different materials in the production of interior doors. For example, wood, chipboard, and PVC doors may include glass elements. On the other hand, glass panels may have a wooden frame. This variety allows the buyer to choose the model that suits their needs best.
Select a suitable design
Pivot door. This door has hinges on the floor and ceiling that let the door rotate around a central axis and open in both directions.
Folding door. This is usually made in a double-leaf form. Most often, this door can be found in laundries, pantries, and other small rooms.
Sliding door. This door can be made of wood or glass or can be lined with mirrors. The design implies that the door slides along the wall, and does not swing open. Thanks to this distinctive feature, sliding doors are suitable for rooms where there is very little free space.
Pocket door. This is similar to the previous door type. But the main difference is that the door slides into the wall, not along it. So, it's a perfect space-saving construction.
Barn door. This door is mounted on top of a sliding mechanism, which allows the door to move to the side. It's best combined with industrial or rustic interiors.
Dutch door. This door is divided in half horizontally. The design allows you to open the upper and lower parts of the door separately.
Handles. There are 3 types of handles: stationary, push (rotary), or knob. The first option is just a fixed handle that is screwed to the door. The second option is equipped with a swivel mechanism and a latch. To open the door, you need to press the lever. The knob has a similar structure, but most often this kind of handle has a round shape. A knob needs to be turned.
Hinges. There are card-type, overhead, cut-in, or universal hinges. To support the weight of the door leaf, they must be durable enough. If the door is made of heavy solid wood, then 3 hinges are installed on one leaf. In addition, it's worth choosing hinges that match the color of the door.
Locks. Interior doors are rarely equipped with a lock, but if necessary, simple options are chosen. Since overhead locks are massive and impractical in operation, mortise locks are more common: they are compact and easy to use. A lock is usually combined with a handle, and the outer case should match the color of the door.
Rollers and motion guides. They are required for sliding doors. Parts must be made of durable metal, like steel. The rollers can only be placed on the upper part of the leaf, for example, this is required for glass doors. However, if the door is heavy, you should choose a system with a top and bottom mounting. Ready-made kits include stoppers, stops, rails, and other items.
💡 All accessories should correspond to the weight and thickness of the structure. A door that is ready for installation should have holes for all the necessary elements. The operating instructions from the manufacturer allow you to install all the parts yourself.