How to Find Cheap Flights
While it might seem like a great idea to find a simple rule that you can follow every time you're looking for flight deals, in practice, there's no single method to predict when a ticket will be cheaper since airfare pricing is extremely complex. That being said, experts do give a few tips or rules of thumb to help you find affordable fares.
5-Minute Crafts made a compilation of these tips to help you plan your next vacation.
1. Buy as if you were flying alone.
Reservation systems at airlines and travel sites sell tickets at the same price to everyone flying on one reservation. This means that if you're buying tickets for your family of 4 all the travelers under this same reservation will automatically get a higher price. That's why it's better to shop for one passenger at a time to see if there is a price difference compared to buying multiple tickets together. If there is, make separate purchases to get as many lower-cost tickets as possible.
2. Don't believe in cheap flight myths.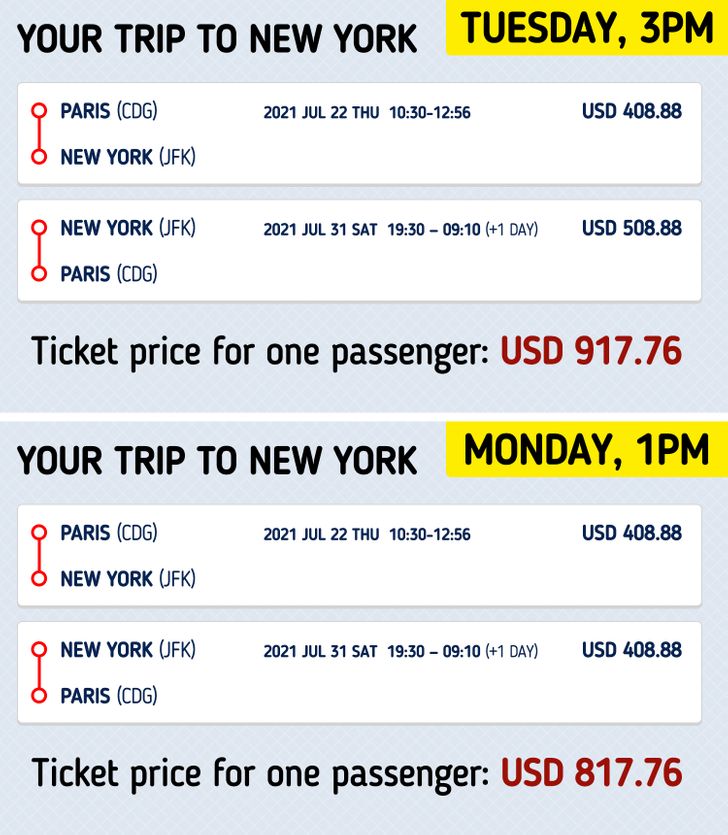 People often talk about a "Golden Time" to buy their tickets: Tuesdays at 3 p.m. This is supposed to be the time when you get the maximum number of cheap seats. However, nowadays, that seems to be nothing but outdated information.
Today, you can find good fares any day of the week because flight prices are constantly changing and airlines load new ones every hour. Instead, buy the best deals whenever you stumble upon these and avoid peak holiday travel days. For example, the Sunday after Thanksgiving will be probably one of the most expensive days of the year to fly.
3. Anticipate but not too much.
For domestic travel in the U.S. try buying your ticket about 3 months before your departure date. Concretely, some websites recommend looking 57 days in advance to save about 10 percent versus the average fare. For trans-Atlantic travel, try looking about 5 months in advance. In any case, check prices at least 30 days before departure because fares tend to increase after that.
4. Be flexible with your dates.
You can find cheap fares that include bags, seat assignments, and, depending on where you're headed, they might even come with a meal. But for this to work, you need to be flexible about what date you're traveling, or even the time of day. Business travelers don't have that flexibility, so if you fly at times that they aren't on the road you could find a better fare:
If you're traveling within the United States, fly on a Tuesday, Wednesday, or Saturday because there are fewer fliers on these days and you can save between 10 and 40 percent per ticket, if not more, compared to a Monday, Friday, or Sunday, when air traffic is heavier. Thursday falls between the 2 categories.
For trans-Atlantic flights, Monday through Thursday tend to be the cheapest. In this case, the savings are only around 5 percent compared with Friday through Sunday.
If you can't depart and return on the cheapest days, you still get half the savings if you pick one for your inbound or outbound flight.
5. Book one-way tickets instead of round trips.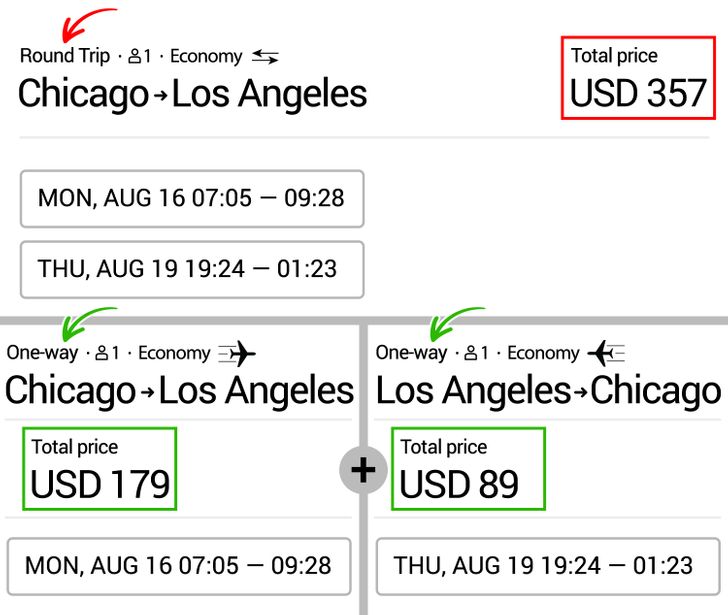 Depending on the flights you're looking for and on seat availability, buying 2 one-way tickets instead of a round trip might be more beneficial. This is especially true when it comes to domestic flights in the U.S. and if you return with a different airline than the one you first bought your ticket from. For instance, the data from the image above is actual data — from Google Flights.
Another example:
Fares from Chicago to Los Angeles turned up nonstop round trips on United from $321, $372 on Delta, and $312 on American.
However, it cost $275 to take an outbound on Delta and a return on American.
Check out these vacation hacks for parents and enjoy an amazing summer