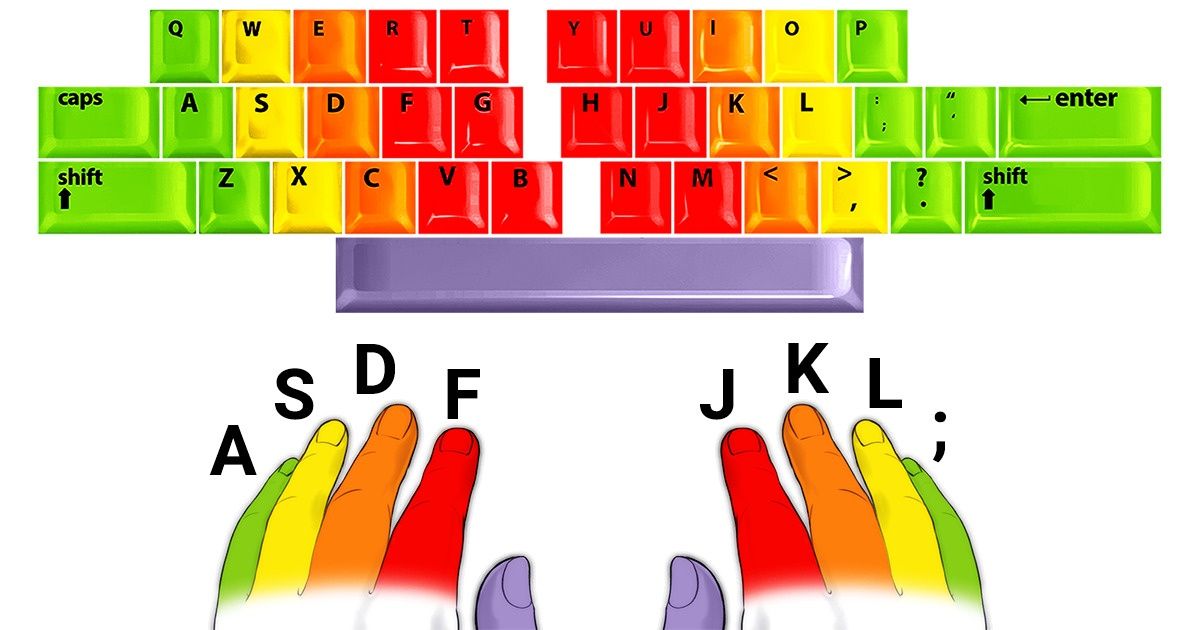 How to Type Faster
The ability to type faster may help you speed up your working process and save some time. Today, 5-Minute Crafts will share a typing technique that can turn you into a typing guru and increase your productivity.
Step 1: Place your fingers in the starting position.
Start by placing your fingers in the correct position, also known as the "home row."
The fingers of your left hand should be located on the keys A, S, D, and F.
The fingers of your right hand should be located on the keys J, K, and L.
When you're typing, you should always start moving your fingers from this starting position and return back to it. Both of your hands should be on the keyboard at all times.
If you have a look at your keyboard, you'll see a raised line on both the F and J keys. You can feel these lines with your fingers when you touch the keys, and they're here to help you get back to the correct finger position without having to look at the keyboard.
Step 2: Figure out what finger is responsible for what key.
Have a look at the picture above to see what fingers are responsible for certain parts of the keyboard. It's important to press keys only with the fingers to which they're assigned to.
You can press the Space key with either thumb.
Step 3: Start typing while paying attention to your fingers' movements.
When you type, don't move your arms too much, and try to reach the keys with your fingers. Try to slide your fingers instead of lifting them up. Use all your fingers and hit the keys only with the fingers that are assigned to them.
Note: Pay special attention to your ring and little fingers because it might be more difficult to control them than the rest of the fingers.
Try not to look at the keys while you're typing to develop muscle memory. It'll probably be challenging for you at the beginning of the training, so it's okay to take a quick peek once in a while. But remember that your goal is to able be to imagine the location of the symbols on the keyboard without having to look at them.
Step 4: Practice enough but don't forget to take a rest when needed.
Take the training slowly and try to avoid typing mistakes. Don't rush to type at a high speed right away, sacrificing your technique and making lots of typos.
Remember that it's important to get enough practice before this typing technique will become natural for you. If you notice that you're starting to make a lot of mistakes and it's difficult for you to concentrate, take a break, then start again.
Note: You can also try using some apps that can help make your training experience more fun.